March 29, 2021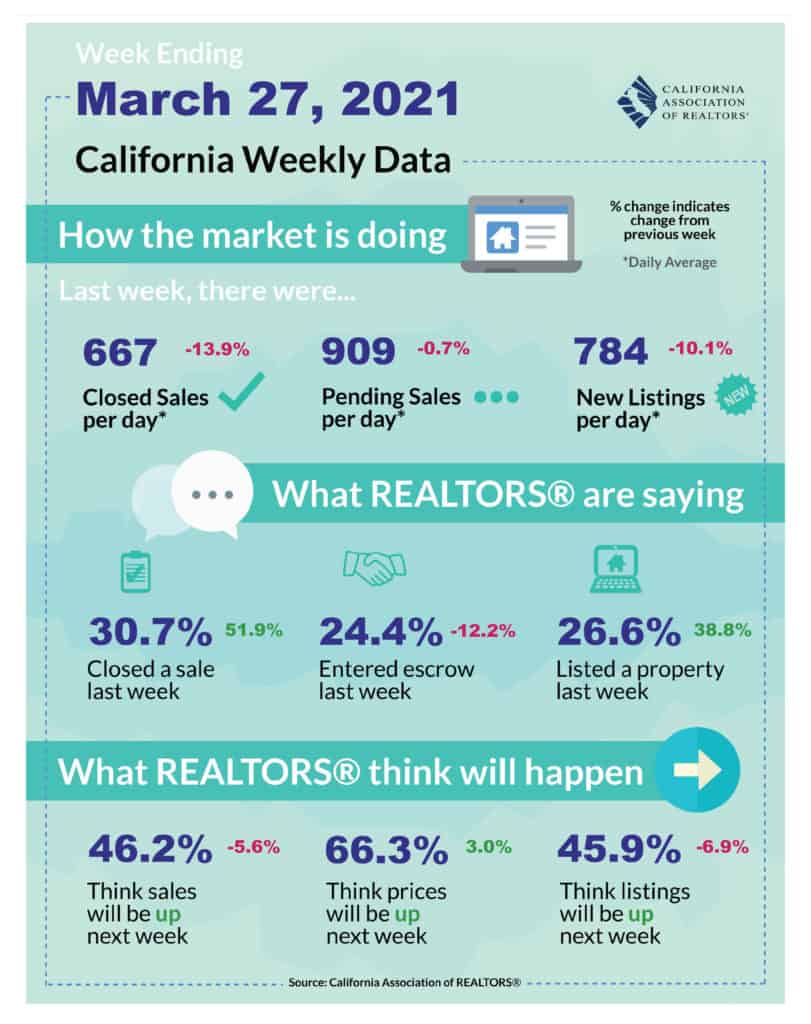 The public health numbers continue to improve as more economic data begins to roll in. After stumbling late last year, the state resumed its labor market recovery in March. Unemployment is now below 9% for the first time since the recovery began and even as rates have continued to rise, all signs are that buyer demand remains robust heading into the Spring homebuying season. Stimulus checks should register as healthy increases in consumer spending during the coming months and consumer sentiment reached its highest level since the recovery began as well. Still lots of healing ahead for California, but there was more progress in that direction last week.
Expecting Double-Digit Home Sales for March: Although the pace of growth in California home sales cooled in February, March is expected to post another double-digit increase. In part, weak sales during the second half of the month and into April and May will likely result in accelerated growth rates this year. In addition, the number of active listings has started to increase ever-so-slightly, which will enable more homes to enter the escrow process in coming months.
California REALTORS® Closing Out March on a Strong Note: In C.A.R.'s latest weekly survey, California agents reported ongoing strength in their business activity heading into the final week of March. The percentage of REALTORS® that did a listing appointment, put a new home on the MLS, or closed a transaction all jumped from the previous week and hit their highest levels since the start of the year. However, REALTORS® were also more pessimistic about listings moving forward, which appears to have impacted their expectations for home sales, which also declined. On the other hand, more REALTORS® now expect prices to continue rising.
California's 7-Day Coronavirus Trend Dips Below 2,000 Last Week: The raw volume of new cases in the state dipped below 2,000 last week, while the 7-day moving average of cases (the state's key target) dips to 2,700. That is the lowest level of new cases since October. In addition, the state's vaccination program is progressing more quickly than originally anticipated. Though last week, nearly 16 million doses of vaccine had been administered, representing 27.2% of Californians that have now received their first dose.
Mortgage Applications Show COIVD Effects & Strong Demand: Despite rising interest rates, the number of new purchase applications increased 26% last week. That marks the 45th consecutive week of growth in mortgage applications and shows that buyer demand remains robust. Some of this exaggerated growth the market is currently experiencing is due to COVID and the significant decline during the same part of 2020, but the overall index remains at higher levels as well.
California Labor Markets Post a Strong Showing in February: Freshly released figures show that California added 141,000 new jobs to its nonfarm payrolls in February. This comes on the heels of a recent release that showed less jobs have been added back since the recovery began (1.07M vs. 1.16M), that job gains in December were revised to job losses and January lost jobs (145K), the reported unemployment rate was slightly higher in Q4-2020 (9.3% in Dec.), and the labor force showed more discouraged workers than originally reported. This makes February's rebound even more significant, and encouragingly, unemployment dipped to 8.5% from 9.0% in January.
Mortgage Rates Jump as 10-Year Rises: Freddie Mac's benchmark mortgage rate jumped to 3.17% driven, in large part, by 10-year Treasury rates, which are up from 0.55% in mid-2020 to 1.67% last week (and 1.83% pre-crisis). In addition, spreads have fallen below trend to 1.5% (the historical average is roughly 1.7%). This suggests that mortgage rates could potentially rise 30-40 basis points short-run, as the 10-year approaches its pre-crisis level and spreads return to historic norms. Over the longer term, rates could settle rough 90-100 basis point higher than that as inflation normalizes around the Fed target and economic growth accelerates.