In these strange times, we hope you and your loved ones are staying healthy and safe. Our team is committed to continuing to serve all your real estate needs while incorporating safety protocol to protect us all. This week, we wanted to discuss some of the trends impacting the Bay Area housing market. If you have any questions, please contact us for a socially distant chat!
Stock Market Trends
The longest-running bull market in history ended in February 2020 due to uncertainty around COVID-19. Both the Dow Jones Industrial Average (Dow) and the S&P 500 indices peaked in February, on the 12th and 19th respectively. In the midst of this news, it's important to recognize that the S&P 500 increased over 330% in the last 11 years.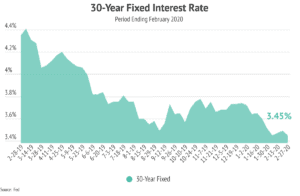 Interest rates move to Zero
While we're experiencing unprecedented events socially and economically, federal interest rate cuts and quantitative easing has created an opportunity for buyers eager to enter the market.
Lower rates will encourage current homeowners to refinance and potential buyers to enter the market to take advantage of the cheap financing opportunities. In this climate, investments in real estate will potentially increase, driving prices higher as investors allocate capital away from stocks.
Looking ahead, we expect an increase in volatility in stocks and bond yields to dip lower and lower as quantitative easing progresses. An investment in real estate may actually be the best allocation at this time.


Bay Area Market
As of earlier this year, median home prices increased across all bay area counties except Napa. Prices were up by double digits in San Francisco, a turnaround from the beginning of the year when prices fell and interest rates increased. In general, appreciating prices signal a healthy demand for housing and encourage sellers to price their homes slightly above comparables.
Condo prices, which historically have fewer sales and greater volatility, show mixed results, but prices are generally trending lower from the previous year. This signals that buyers are placing a higher premium on single-family homes. The exceptions to this are Solano, Alameda and San Francisco counties.
Looking ahead, we believe lower interest rates will continue to benefit buyers, and supply levels will shrink even further as buyers continue to have access to more favorable financing.
As always, we remain committed to helping our clients achieve their current or future real estate goals. Our team of experienced professionals would love to discuss all the information we've shared in this post. We also want to assure you that of all investments you can make, real estate has historically proven to be the best asset you can own in the long-term. As we all navigate this together, please don't hesitate to reach out to us with any questions or concerns. We're here to support you.
– The Ascend Real Estate Team