Median Home Sale Price - San Francisco
Median Days on Market - San Francisco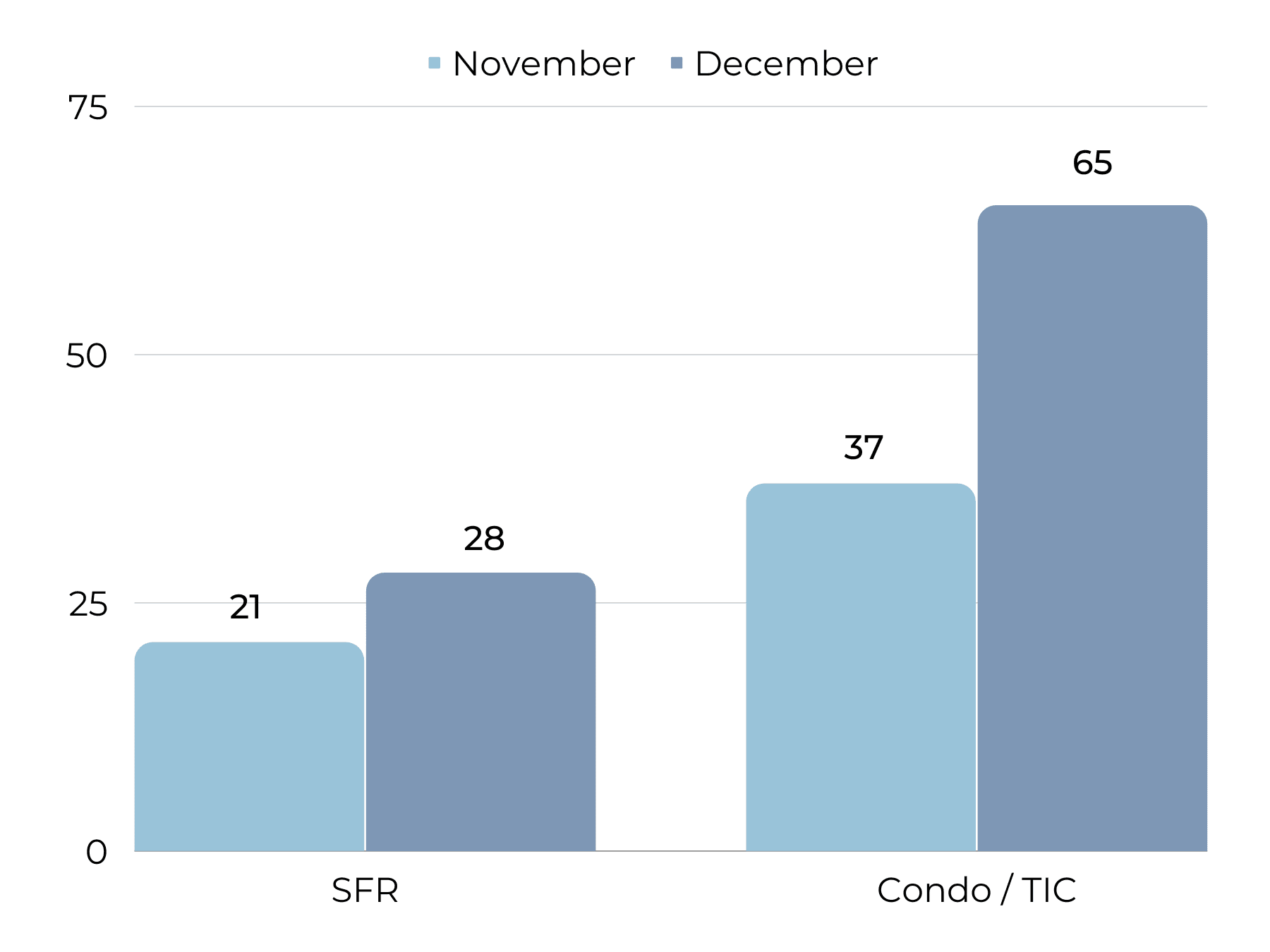 Housing Supply
The end of 2022 saw new listings drop for the third month in a row, at a number on par with 2019 pre-covid levels. This is to be expected since inventory typically peaks in September, however it's worth noting that listings over the entirety of 2022 were noticeably lower than 2020/2021 levels. On a brighter note, 2022 was still a strong year for supply, with 15% more listings hitting the market compared to 2018/2019. Also par for the course, pending sales were down in December as well, which will impact January's closing numbers. Monthly supply is also similar to 2018/2019 levels at 1.3 months worth of inventory, which would normally be indicative of a seller's market.
Home Values
Average sales prices continued on a downward trend since April 2022, slightly increasing in the Fall. Overall, the state of home prices in 2023 is very similar to pre-covid 2018/2019 levels. Single family homes are selling at slightly higher prices than in 2019, but condominiums are 16-17% below 2018/2019 price points year over year. Of course, during the holiday season, it's normal for homes to spend a little more time on the market, with most sales closing from older listings left from September / October. The 2022 holiday season was no exception to this trend. It is not uncommon for many to remove their listings during these slow times and re-list in the Spring to take advantage of a busier market. Since April of 2022, more homes have been selling lower than their listing price. In fact, in December 2022 properties were selling at 2.7% less than their asking price, on average. It is interesting to note that this is the first time since 2012 that single family homes were sold on average at levels below their listing price. The year ended with 33% of homes selling over their asking price, down from peak levels in April of 73.5% selling over asking.
The Bottom Line
Some media headlines may say the "sky is falling" for real estate, but our team has experienced this industry through many of its ups and downs and feels comfortable saying that 2022 was a pretty average year for most areas. Though we saw a rise in interest rates, the market has calmed from the Covid explosion of real estate sales. It will be interesting to see if 2023 sees another "normal" year despite higher interest rates. In our opinion 2022 was a year of transition, and 2023 is going to feel like previous years, especially for those that have kept a pulse on the market over the past 5 years.
With real estate, slow, steady, and methodical is our approach. Be thoughtful in your purchases, don't overreact when the market shifts, but be prepared to strike when the timing is good. As we've been saying for the past 4-6 months, right now is an ideal time to buy a home. Though conditions will likely remain good for buyers, they should be prepared for increased competition in the coming months.
As always, we are your real estate resource in selling, buying, and investing in 2023, ready to advise you on your goals for the new year. Reach out anytime!