Local Lowdown
Year to date, single-family home prices were up across most of the North Bay, while condo prices were more mixed. Condo prices in Marin and Napa rose while prices in Solano and Sonoma fell. We expect seasonal trends to hold through the rest of the year and for home prices to remain fairly stable.

Sales rose from July to August, while new listings and inventory fell, likely indicating the start of the typical seasonal decline across supply and demand metrics. Inventory remains depressed but has still grown significantly in 2023, which has helped alleviate some excess demand.

Months of Supply Inventory has risen slightly over the summer, but remains a sellers' market. Homes are still selling quickly, and sellers are receiving a greater percentage of asking price, all of which highlight a competitive environment for buyers.
Prices slightly contract — the seasonal norm
In the North Bay, the housing market is always experiencing high demand, especially in the spring and early summer months. Increasing demand and low, but rising inventory helped drive the rapid home price appreciation that the North Bay experienced in the first half of the year. Typically, demand begins to decline in July and August, so the consistently low supply may become less of an issue. However, less of an issue doesn't mean a non-issue. Quality new listings will certainly be sold quickly, while less desirable homes will sit on the market. This isn't unusual, but it's more apparent due to current mortgage rates. Potential homebuyers aren't nearly as willing to pay a premium for a fixer upper as they were in 2020 and 2021.
In August, the median single-family home prices were up year to date across most of the North Bay counties with Marin prices flat for the year. Condos were more mix with price gains in Marin and Napa and declines in Solano and Sonoma. As sales and new listings slow in the second half of the year, home prices typically remain stable or decline at the margins.
Sales rose, while inventory and new listings dropped in August
Single-family home and condo inventory, sales, and new listings rose in the first half of the year, although all remain at depressed levels. Typically, inventory peaks in July or August and declines through December or January. Currently, inventory is so low relative to demand that any amount of new listings is good for the market. However, new listings have been unusually low this year, which has directly impacted both inventory and sales. The number of home sales is, in part, a function of the number of active listings and new listings coming to market. Since new listings and sales peaked in May 2023, sales declined 14%, while new listings fell 23%.
As tight inventory levels continue, sellers are gaining negotiating power. In January 2023, the average seller received 93% of list price compared to 98% of list in August. Inventory will almost certainly remain historically low for the rest of the year and likely remain low in 2024.
Months of Supply Inventory remained under three months in August in most of the North Bay, indicating a sellers' market
Months of Supply Inventory (MSI) quantifies the supply/demand relationship by measuring how many months it would take for all current homes listed on the market to sell at the current rate of sales. The long-term average MSI is around three months in California, which indicates a balanced market. An MSI lower than three indicates that there are more buyers than sellers on the market (meaning it's a sellers' market), while a higher MSI indicates there are more sellers than buyers (meaning it's a buyers' market). The North Bay market tends to favor sellers, especially for single-family homes, which is reflected in its low MSI. Even with the slight increase in MSI over the summer months, the market still firmly favors sellers. The only exceptions are single-family homes in Napa, which are closer to a balanced market.
Conclusion
The fall market seems to be highlighted by lower than average prices, higher than normal inventory, and low buyer activity. We've told clients the following "if you can afford the higher mortgage, and you have good job security, now is an amazing time to buy." Not all people are capable of buying at the moment. If you fulfill my two requirements above, now is one of the best opportunities to jump into the market. If you are a seller and ready to sell, it is unfortunately a difficult marketplace. Though change is a constant in this market, experts don't necessarily think prices will rise rapidly. We are hopeful that 2024 will bring positive market changes for homeowners. As always, don't hesitate to reach out and schedule a consultation to go over your real estate needs!
Median Home Sale Price - Marin County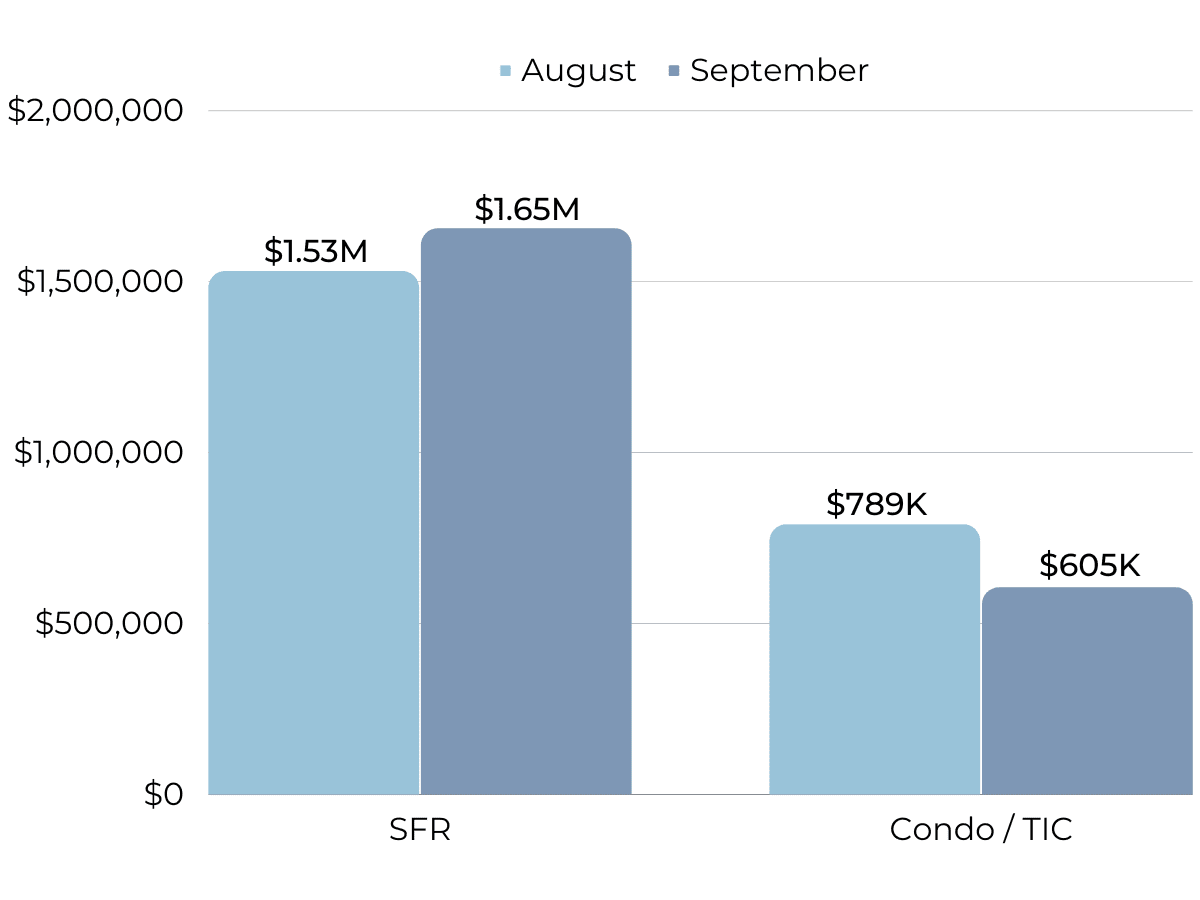 Median Days on Market - Marin County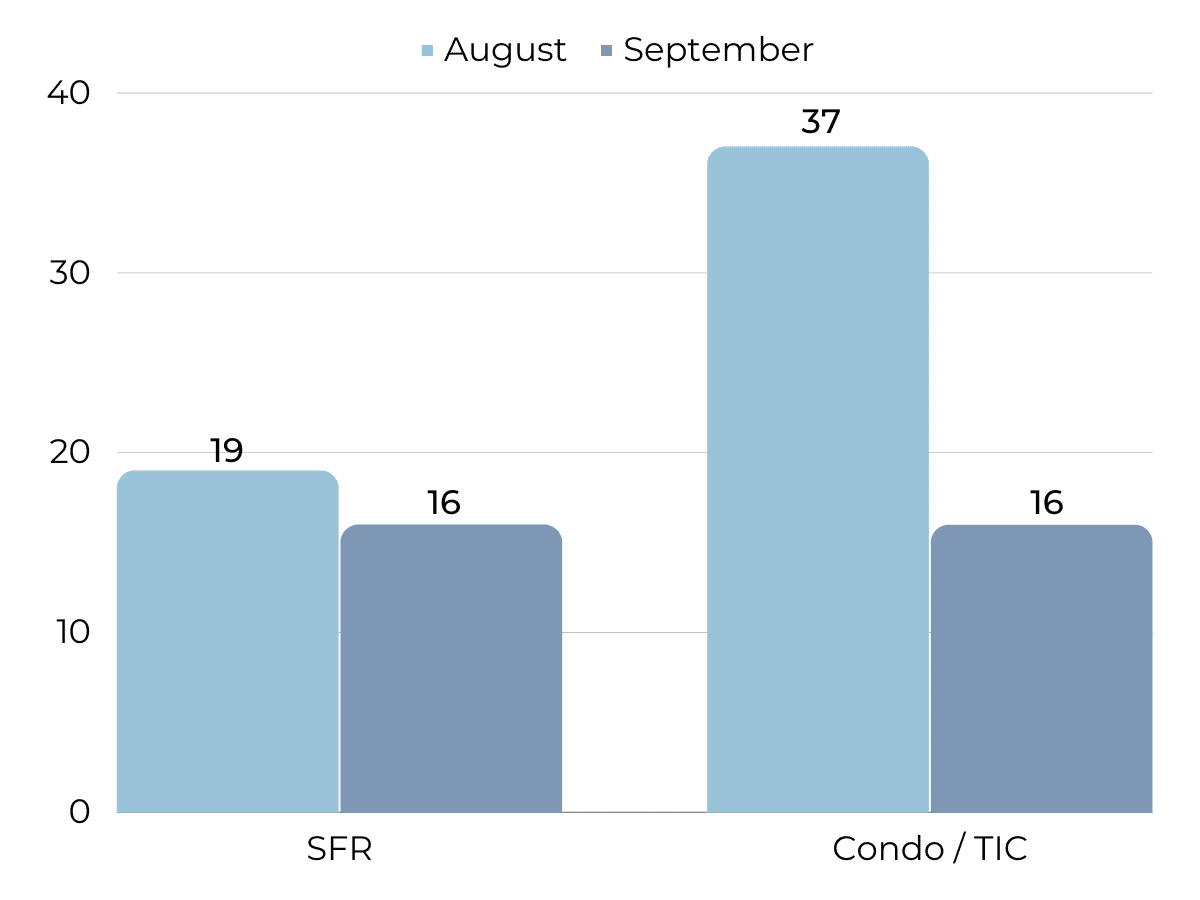 Median Home Sale Price - Solano County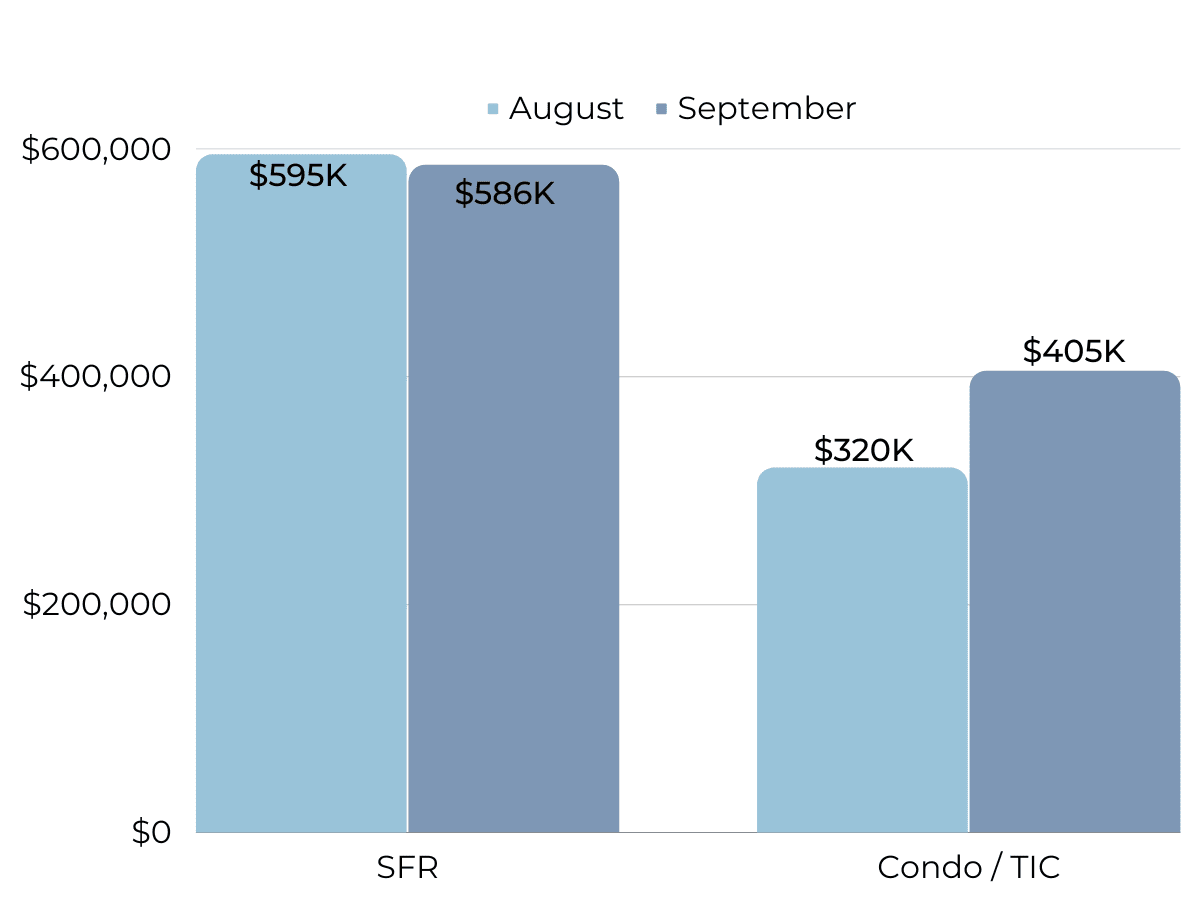 Median Days on Market - Solano County