Key Topics and Trends in September
The pandemic tested the efficacy of large-scale remote work, causing companies to reconsider the need for massive office spaces. Notably, Pinterest announced in late August 2020 that it paid $89.5 million to terminate its lease on a yet-to-be-built 490,000 square foot office space. The choice reflects Pinterest's reevaluation of its workforce needs, and its realization that more employees can work from home on a regular basis. Pinterest is showing another "new normal" for companies: hiring employees from different parts of the country without requiring those employees to relocate near the office. As a result, companies and employees are even less restricted by geographic location than they ever have been in the past.
SFGate reports that the Bay Area is not going through an abnormal population exodus; rather, the area simply is not seeing the usually high number of people moving to the area.
Although fewer people moving to the Bay Area sounds like it would lower the demand for homes and, therefore, decrease home prices, the median home price has actually remained stable through August. In order to explain why prices have not changed, we can look to affordability. According to the California Association of Realtors, a median homeowner needs to earn a minimum income of around $300,000 and be able to pay $7,000 per month for mortgage, taxes, and insurance. This monthly expense is more than twice the average renter, who now pays less than $3,000 per month.
Unlike many other counties around the country where the cost of a mortgage is similar to the cost of rent, Silicon Valley maintains a large gap between those that can afford rent versus those that can afford a mortgage. The rental market, which is receiving a lot of press for its steep decline, does not foreshadow a decline in single-family home prices.
September Housing Market Updates for Silicon Valley
A note on the data: We utilize data from the California Association of Realtors®, which provides an incredibly rich data set. In an effort to bring you these reports in a timely manner, for the month of September, we are using July's numbers to analyze market trends over the first half of the year. 
Single-family home prices climbed back to the highest median price on record as inventory waned and sales increased. The condo market saw an increase in median prices as well.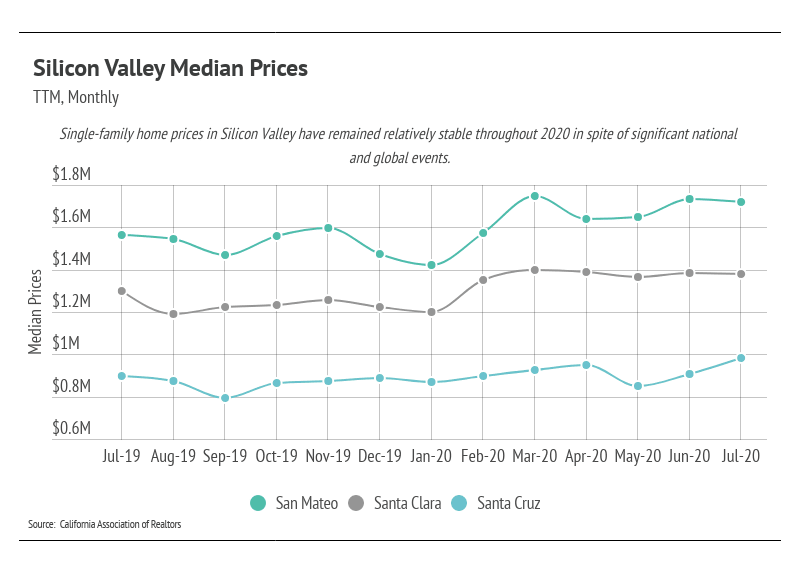 Year-over-year, single-family home prices are up 10% in San Mateo and Santa Cruz and up 6% in Santa Clara. Silicon Valley as a whole has fared well throughout the pandemic with year-over-year prices dipping briefly in May and rebounding in the summer months.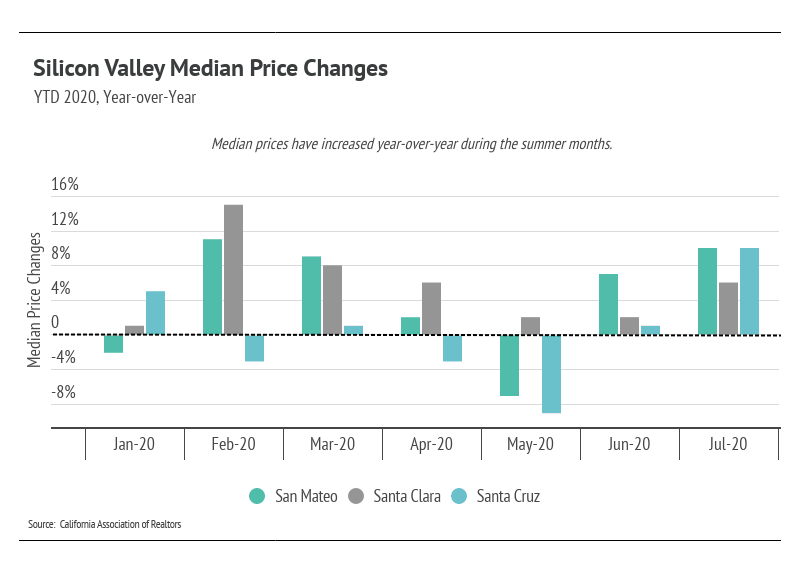 Median condo prices posted gains across counties. Santa Cruz saw significant price increases for both single-family homes and condos.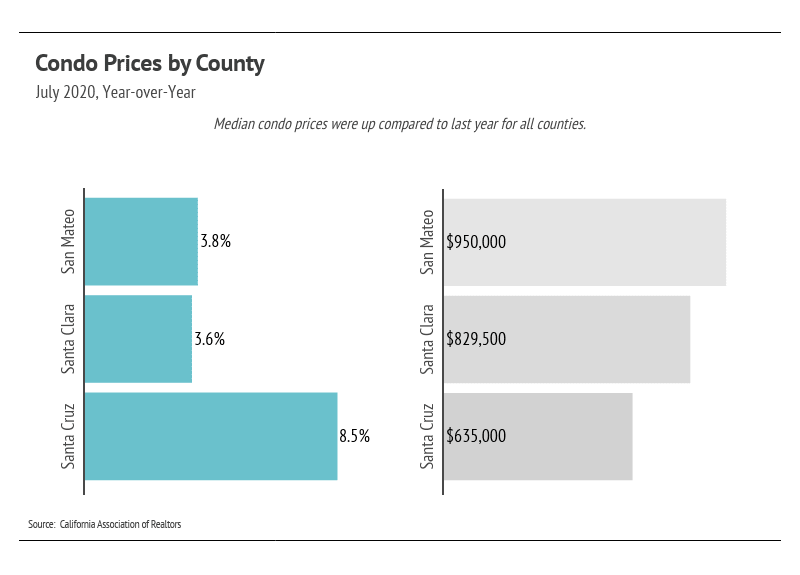 The inventory of homes for sale remains near its high for the year but are far lower than last summer, which we can see reflected in the increased median home prices. Lack of supply compared to demand typically buoys the Silicon Valley's prices, which still remains true. Demand has remained high in the summer months, and the area may see an increase in new listings as sellers look to capitalize on the favorable seller's market.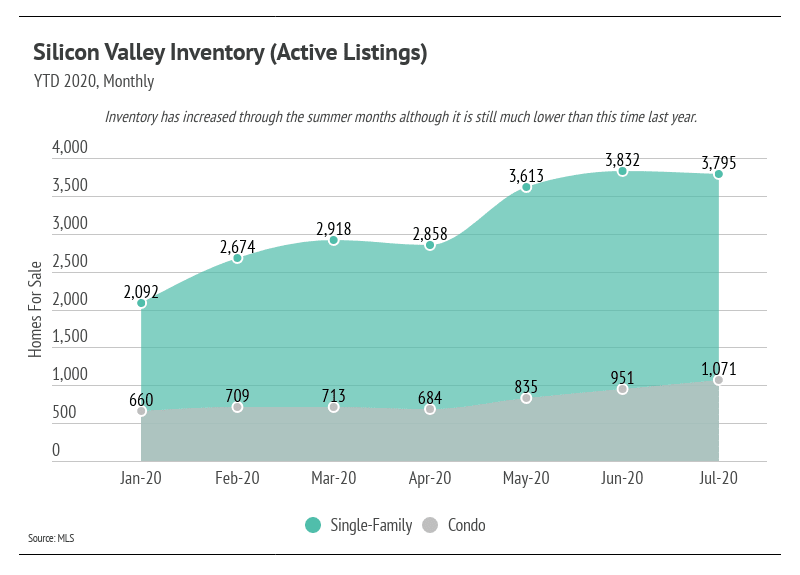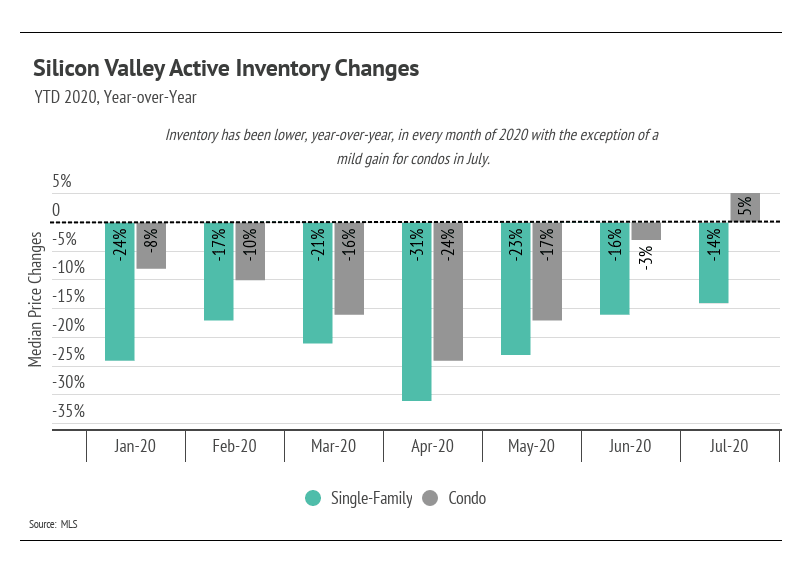 To fully appreciate the year-over-year decline in inventory, we must look at the ways in which sales behaved in 2020. During the initial months of the pandemic (March, April, and May), buyers and sellers hesitated to enter the market or entirely withdrew from it. Sellers began to reenter the market in May, thereby increasing inventory, but not to last year's levels. Without the usual inventory, buyers have had fewer options from which to choose, and yet, sales have rebounded, surpassing last year's numbers. We've seen a large year-over-year sales increase, which is an amazing recovery from the lows in May. The increase in sales shows that there is still high demand in the area, despite the lower-than-usual inventory.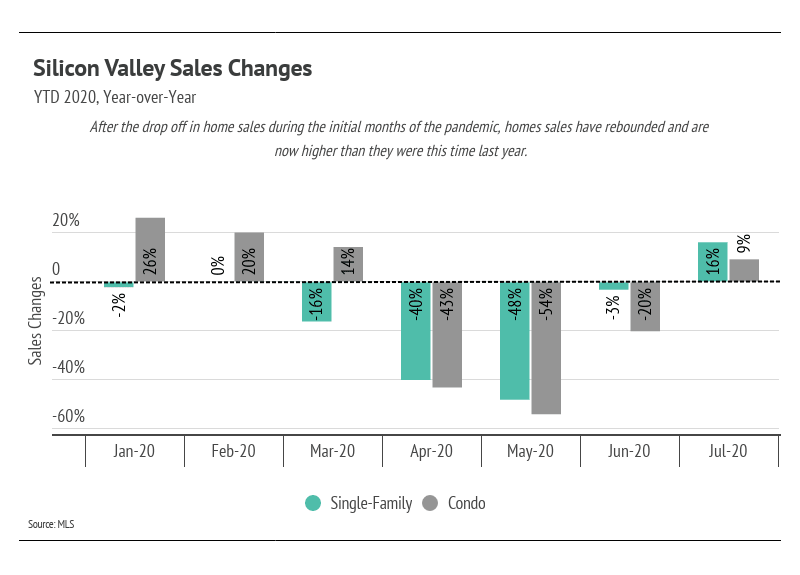 We can look to Months of Supply Inventory (MSI)—the measure of how many months it would take for all current homes for sale on the market to sell at the current rate of sales—as a metric to judge whether the market favors buyers or sellers. MSI has an average of three months in California, which indicates a balanced market. An MSI lower than three means that buyers are dominating the market and there are relatively few sellers, while a higher MSI means there are more sellers than buyers. The MSI for single-family homes fell well under the three-month mark for all three counties, indicating that the market is favoring sellers again.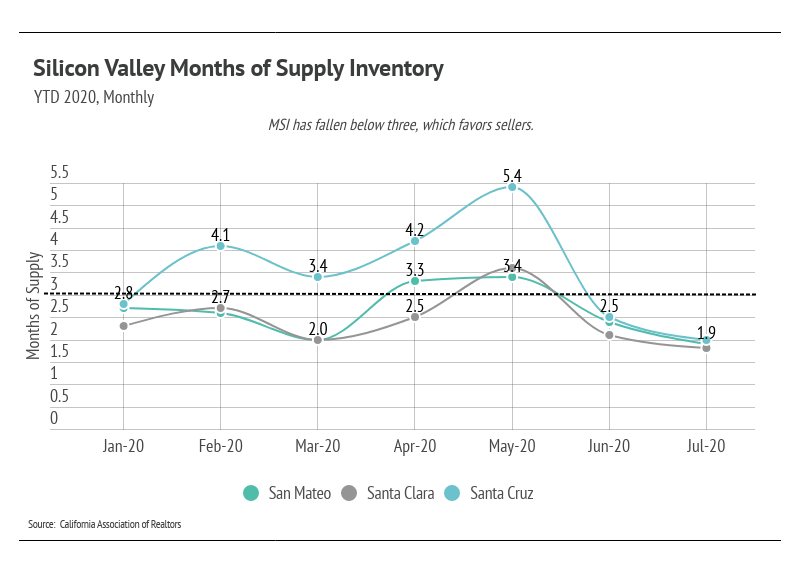 The Days on Market (DOM) decreased, corresponding to the increased sales, and is more in line with what we typically see in the summer season. We suspect that the DOM will remain low during this time of undersupply. Condos, which generally stay on the market a little longer, are selling at a similar speed as single-family homes.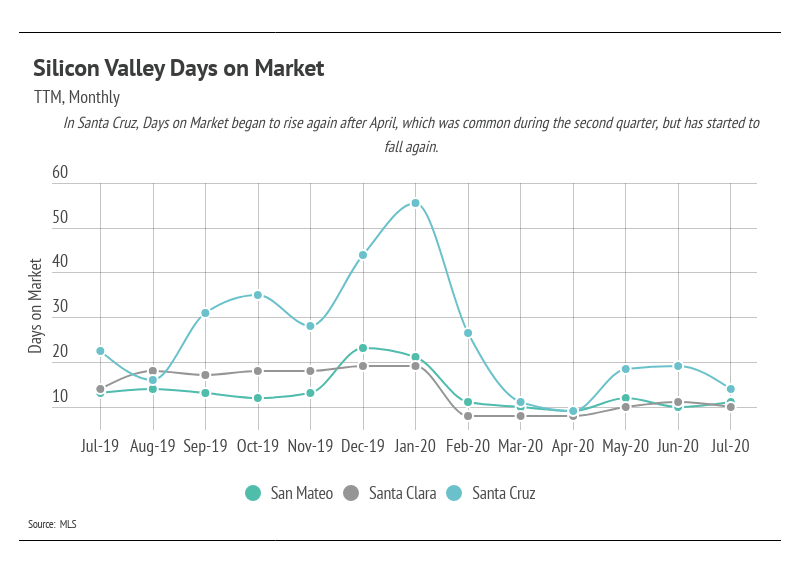 In summary, the lower levels of inventory have made the market more favorable to sellers. We believe sales will continue to trend upward, which could bring more homes to the market to satisfy the demand for housing in Silicon Valley. The housing market has shown its resilience through the pandemic, remaining one of the safest asset classes.
As always, we remain committed to helping our clients achieve their current and future real estate goals. Our team of experienced professionals are happy to discuss the information we have shared in this newsletter. We welcome you to contact us with any questions about the current market or to request an evaluation of your home or condo.