Key Trends In Your Local Market
April home and condo prices rose in San Francisco on both a monthly and yearly basis. Even more surprisingly, home and condo prices fell only slightly statewide. In April, California median home prices declined 1% according to the California Association of Realtors (CAR).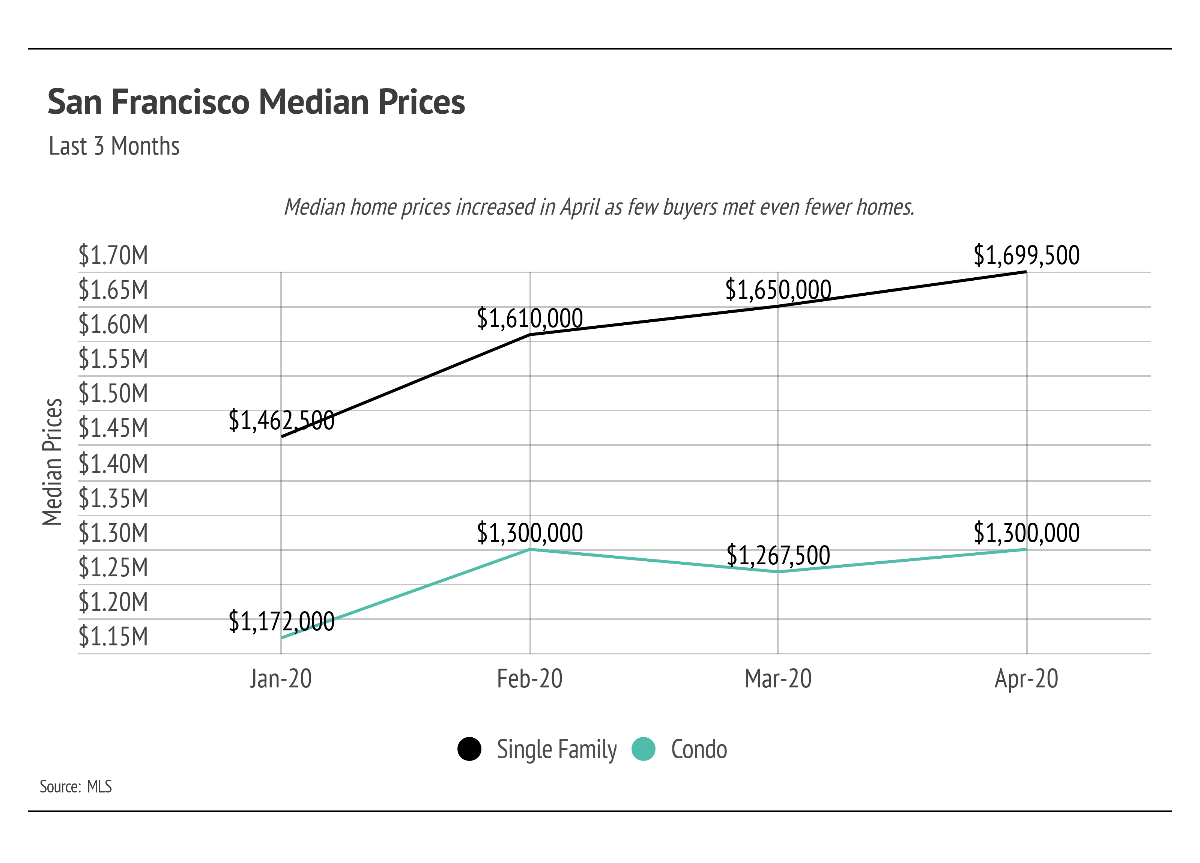 May Housing Market Update for San Francisco
While the pandemic's impact on the housing market progressed rapidly in March, the April housing market data illustrates a stable market, albeit at a new normal. The graph below illustrates the available housing inventory by week rather than by month (as is typical) to illustrate how the market has changed over a shorter timeline. We can see that supply levels declined in March, but have since flattened. A significant number of sellers continue to remain in the market, and this so-called floor might indicate that active listings have fallen as far as they will go.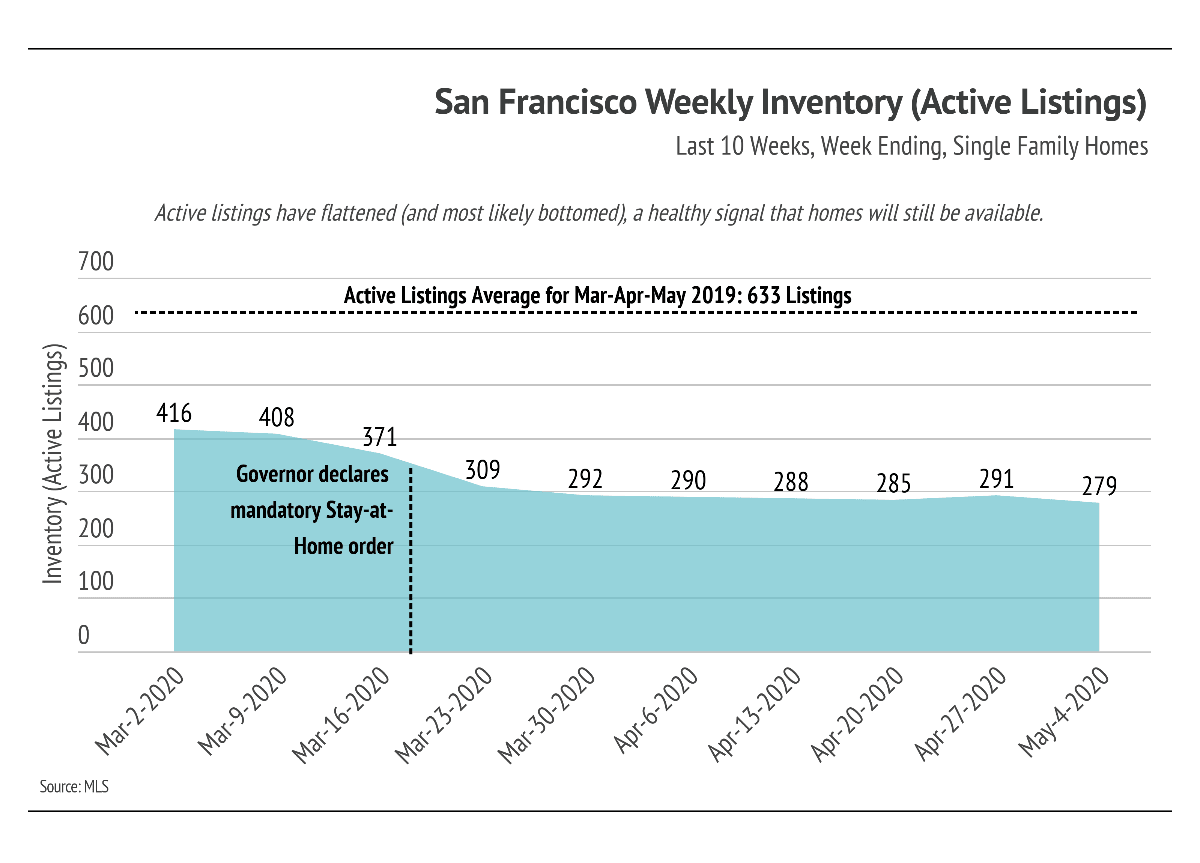 Another sign that the housing market may be beginning to turn around is the number of listings under contract. During the week of March 30th, listings under contract hit a low with only 11 single-family homes under contract. Since then, listings under contract are almost three times that amount (31), indicating that people are forging ahead, aided by technology.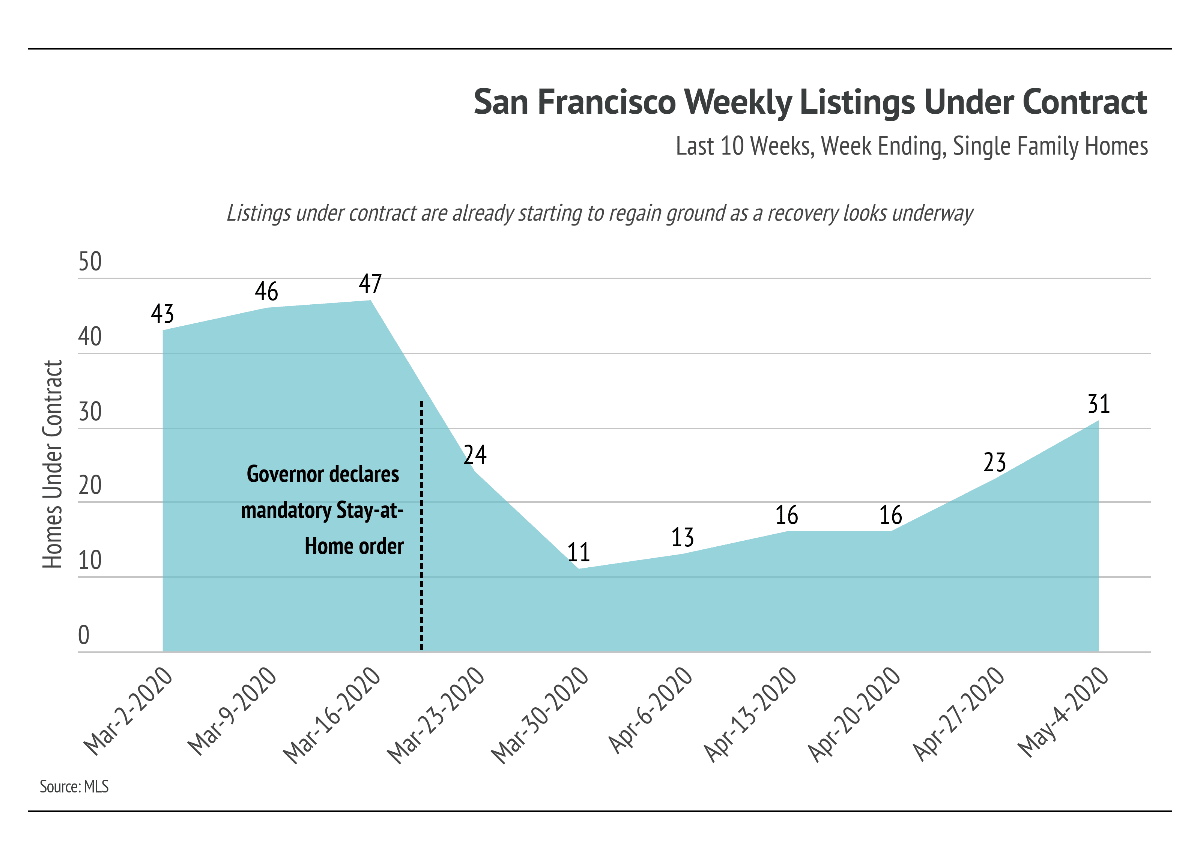 As discussed earlier, San Francisco's median prices rose in April for both single-family homes and condos. Although the pandemic and stay-at-home orders dampened buyer demand, the number of active listings also decreased, which buoyed prices.
Compared yearly, prices were up for both single-family homes and condos as well. Appreciating prices typically signal a healthy demand for the available housing and encourage sellers to price their homes slightly above comparables.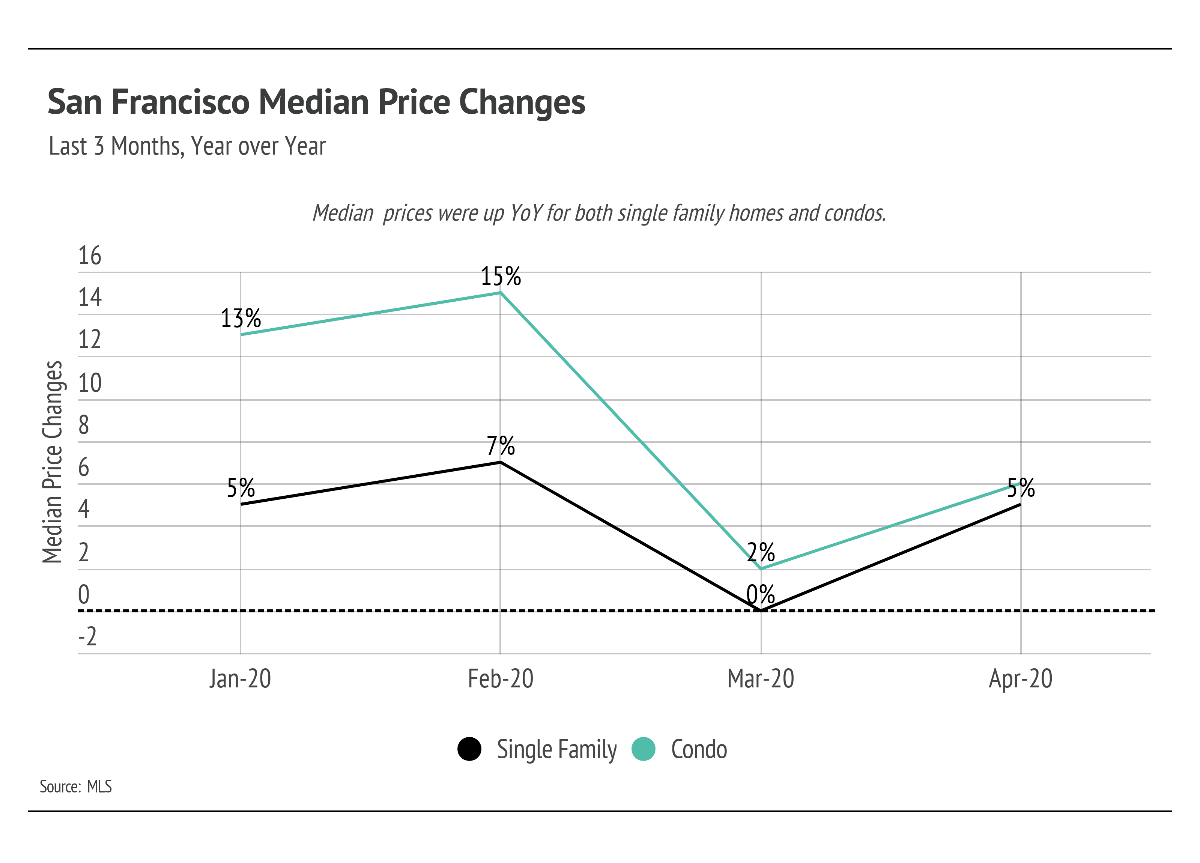 Along with a rise in median home prices, the percentage of homes that sold with price cuts remained at the lowest level in the past ten months. Only 7% of sellers had to reduce their prices in April. Rising price data will only encourage sellers to keep their listings priced where they are and wait for more buyers to come back into the market.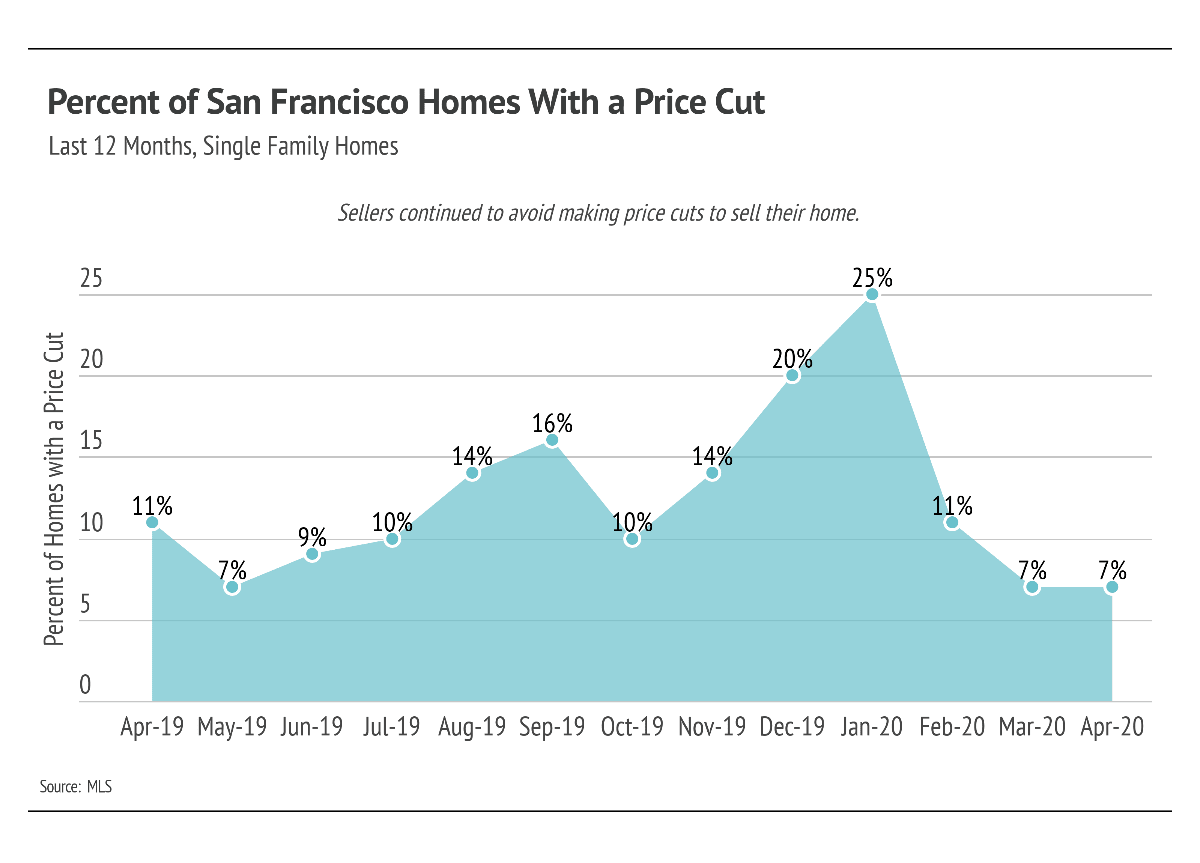 The sale-to-list ratio reflects the change in the original list price of a home and the final sale price. For example, a ratio of 100% means that a home sold for the price at which it was most recently listed. In San Francisco, single-family homes almost always have higher sale-to-list ratios than condos. In April however, single-family home sellers accepted offers at a discount for the first time in over a year. This indicates that sellers are finally making price concessions, albeit small ones, and that buyers have a bit more negotiating power. Meanwhile, sale-to-list ratios rose for condos; buyers paid a 4% premium. It's important to note that the sample size for April sales is over 50% smaller than usual, making this month's metrics outliers rather than the start of a new trend. We will, of course, continue to track this metric in order to guide your decision making.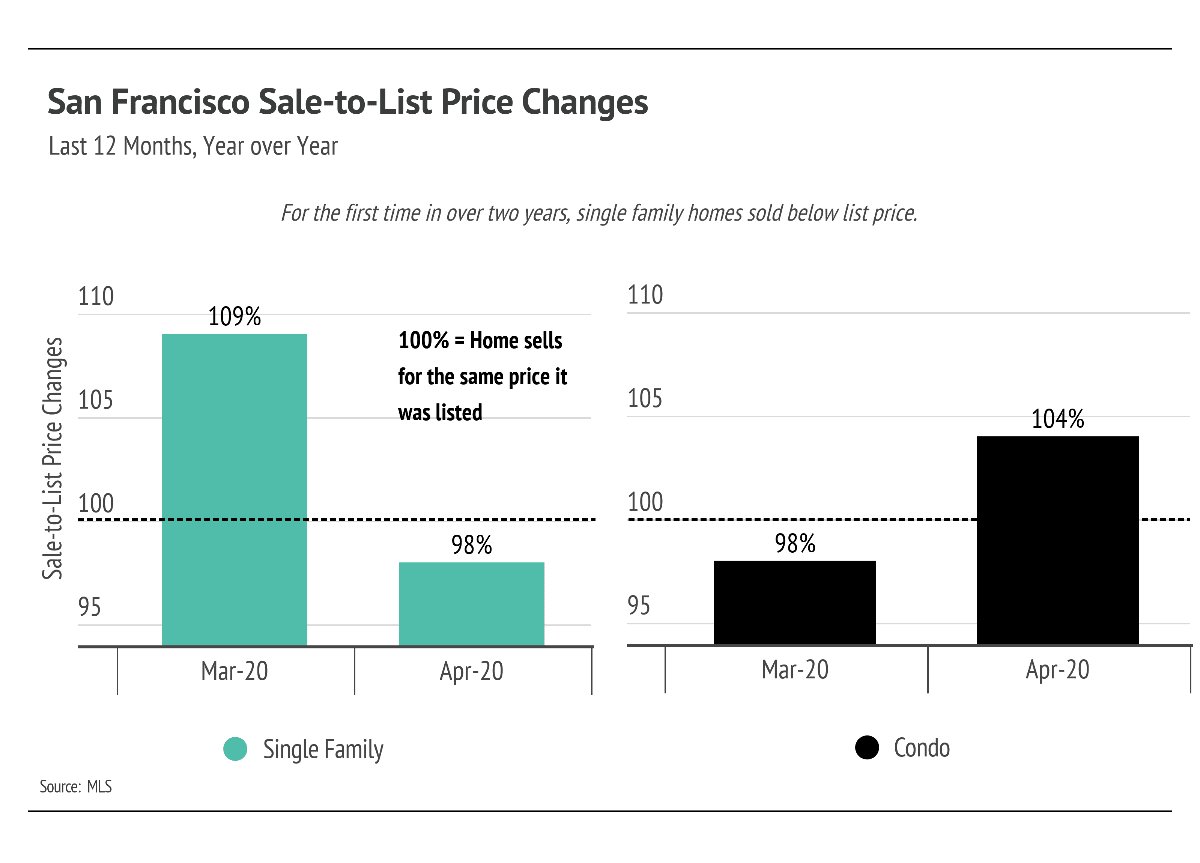 Months supply of inventory measures how many months it would take for all current listings on the market (including listings under contract) to sell at the current rate of sales. In April, the supply of single-family homes decreased but not nearly as much as the sales volume, which caused the large year-over-year jump in months supply of inventory. Months supply was 2.5 and 4.4 for single-family homes and condos, respectively, in April.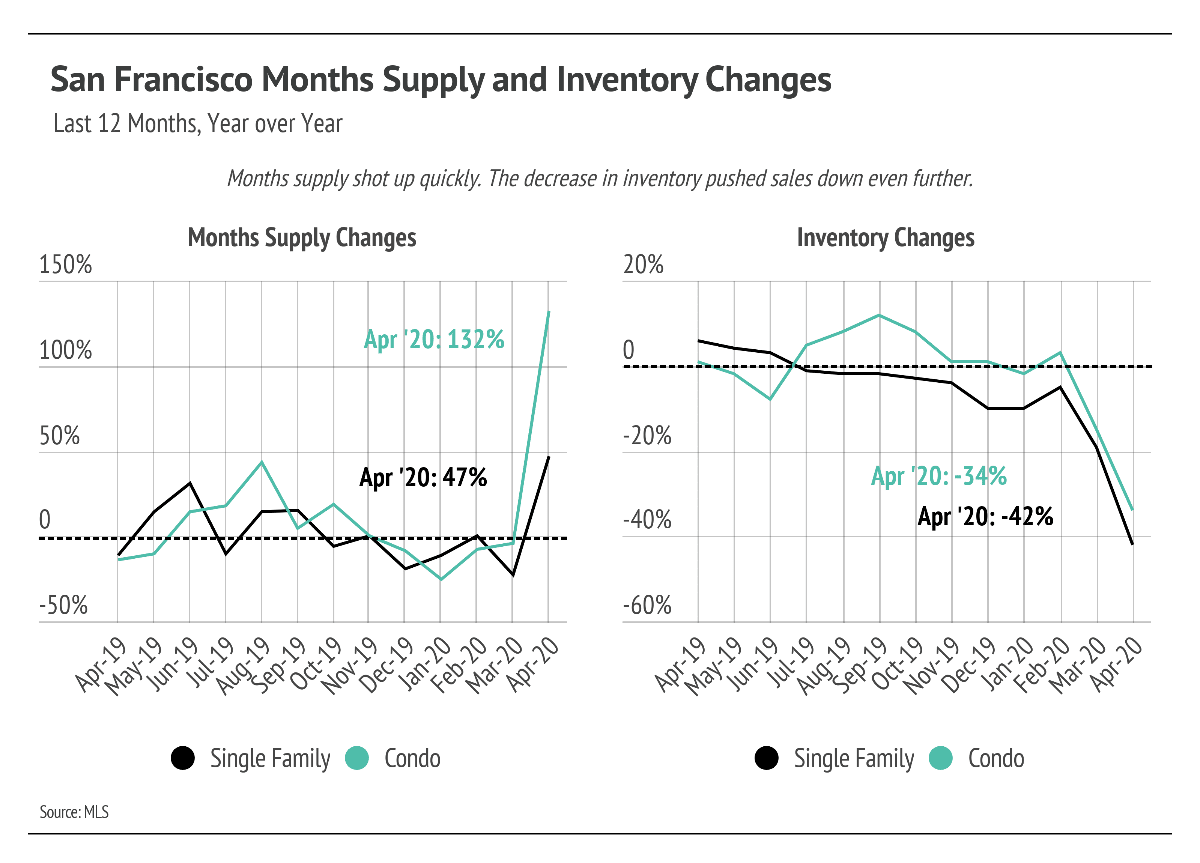 Inventory and volume of homes sold saw a significant decrease in March and April. The year-over-year changes are particularly pronounced as sales and inventory typically have a seasonal increase in March and April, coming out of the slower Winter season.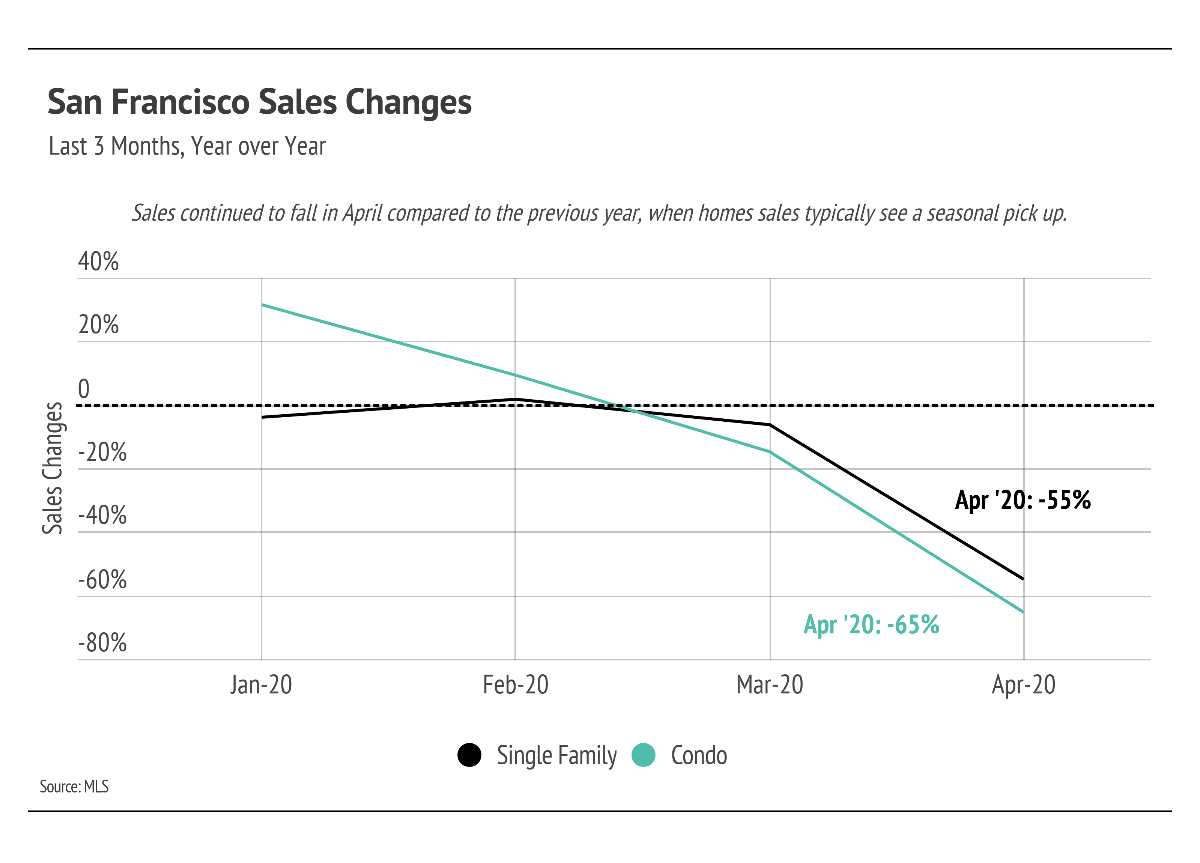 Looking ahead to June, we anticipate more growth. We expect buyer demand to pick back up as fears of a steep price decline lessen. Look for more agents to leverage the latest technology to give buyers the ability to tour homes in compliance with state and local laws.
As we discussed in previous newsletters, the fundamentals of the housing market were strong before the global economy stalled, which we believe will help us all navigate this difficult time with as little consequence to the market as possible.
As always, we remain committed to helping our clients achieve their current or future real estate goals. Our team of experienced professionals would be happy to discuss the information we've shared in this newsletter. We welcome you to contact us with any questions about the current market or to request an evaluation of your home or condo.