Inventory
October saw a drop in the number of new listings hitting the market. This is to be expected though the number did fall below historical levels. Active listings on the market also saw a dip and we expect this number to drop further as we enter the holiday season. Traditionally during November and December, few properties hit the market and many are removed from the market as well. In welcome news, the month's supply of available listings continued to trend upward last month to 4 months worth of inventory available for sale. Pending sales also increased in October which is a good trend considering September was quite low. Though it's still 20% less than historical levels, it's a positive sign to see the number staying up.
Sales Price
The amount of listings sold has increased slightly, however it's still significantly lower (33% than past years during October). In positive news for sellers, median and average sales price increased in October (regaining quite a bit of appreciated value since the low point around January 2023). About 50% of homes are selling above list price, this has remained at this level since March of 2023. Price per square foot has also remained stable since February. Only about 2-3% of homes have received offers over asking, staying unchanged since March 2023. Homes are sitting on the market for an average of 21 days before being sold, consistent with levels in September.
Bottom Line
Overall the market over the past 9 months has remained very stable. This in itself is highly unusual! We typically have strong markets in the Spring and Fall, but those markets didn't really materialize this year. We have built up some higher inventory levels, but as we go into the holiday season those are likely to decrease as homes are pulled from the market. Anecdotally, we are seeing more buyers come into the market. This could be due to pent up demand or more stable job prospects, but buyers do seem to be preparing for buying in the Spring. We're fairly optimistic that 2024 may start turning back into a normal market cycle. Schedule a consultation if you are considering making your real estate moves in the new year, let's get the ball rolling!
Median Home Sale Price - SF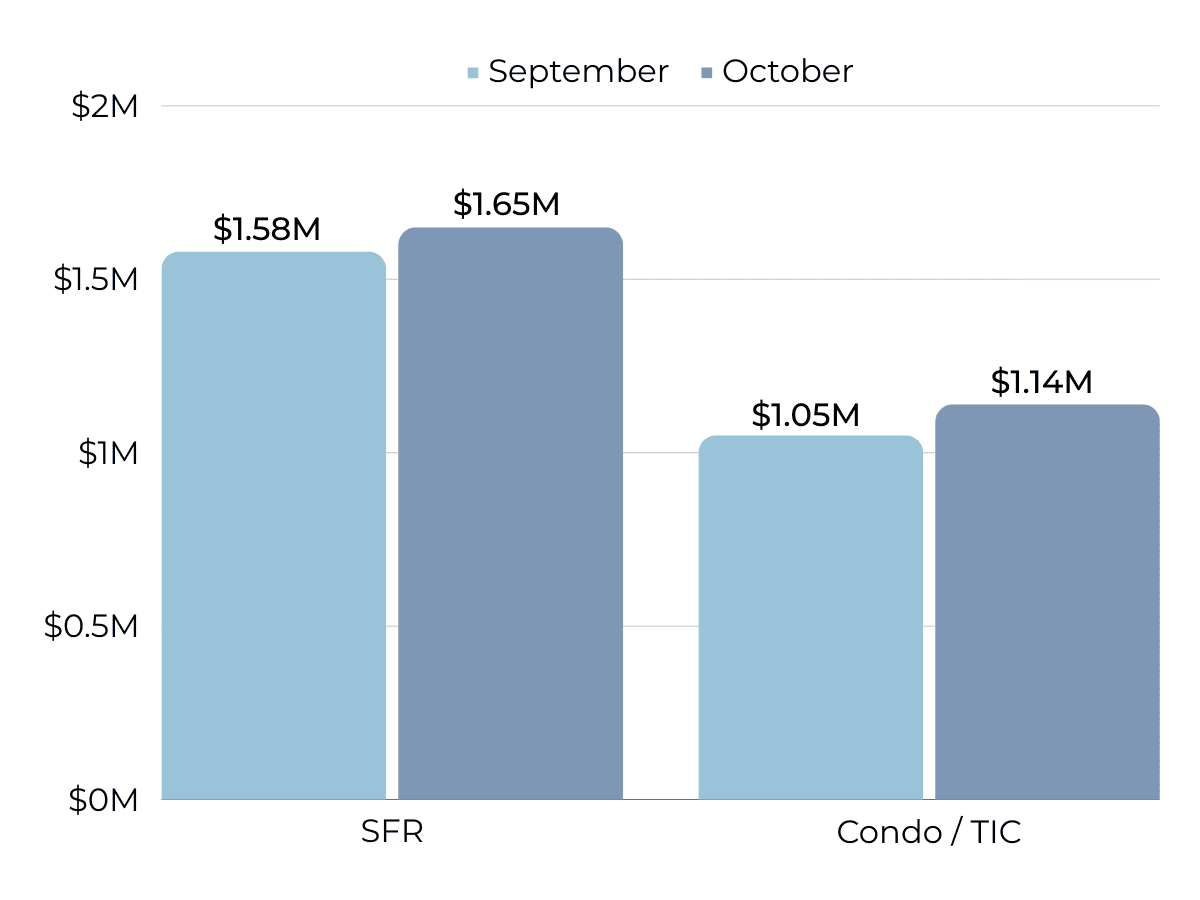 Median Days on Market - SF