San Francisco
Christmas Shows
Every year, there's another opportunity to see these Christmas favorites in world-class productions in the city.
The Nutcracker
The San Francisco Ballet's performance of the Nutcracker is the ultimate SF Christmas experience. The American premier of the Nutcracker was took place in San Francisco, in the War Memorial Opera House, performed by the San Francisco Ballet on Christmas Eve in 1944. This event launched an American Christmas tradition, and you can still see the SF Ballet do the Nutcracker every year at the SF Opera House.
Join young Clara and the sugar plum fairies this year in one of our most delightful holiday traditions. 2019 was the 75th anniversary of San Francisco's first Nutcracker performance. The Nutcracker is back for 2023! Check with their website for the offerings and performance dates of 2023 ballet season. For tickets, go directly to their website for the best prices.
Dickens' Christmas Carol
Dickens' beloved story of Scrooge and Tiny Tim is performed every year in San Francisco by the American Conservatory Theater, at the Geary Theater, 415 Geary Street. The live performance of the Christmas Carol is back for 2023!
Performance dates: Dec 6-24, 2023. See Christmas Carol for more info and tickets.
Handel's Messiah
In most years, you can enjoy this beloved work in the SF Symphony's grand Davies Hall, in the gorgeous Herbst Theater, or in Grace Cathedral.
San Francisco Symphony - Messiah
See the Messiah performed by the SF Symphony and 100-member Symphony Chorus in Davies Hall. Always a great show.
The SF Symphony is doing the Messiah this year on Fri, Dec 8, and Sat, Dec 9, 2023 at 7:30 pm.
To check current Covid requirements for attendance, see Covid rules. Mask and vaccination no longer required, but strongly recommended.
See Messiah for tickets (on sale July 15, 2023).
Grace Cathedral - Messiah
One long-standing San Francisco tradition is the performance of Handel's Messiah in the beautiful Grace Cathedral, on Nob Hill. Also performed on period instruments, and sung by the American Bach Choir, this has been a very popular event for past 20 years.Book early for this one. The Grace Cathedral Messiah is back for 2023. Performances on Dec 14 & 15, 2023. See Messiah tickets.
Grace Cathedral Carols
Grace Cathedral does Christmas carol programs as well, both sing-along, and performances by their Choir of Men and Boys. Beautiful setting. See Grace Cathedral Christmas programs for info and tickets. For info on Christmas services at Grace Cathedral, see services.
Sing-Along Messiah
The Golden Gate Symphony usually does a Sing it Yourself! Messiah each year, at Herbst Theater, 401 Van Ness Ave. The Sing-along Messiah is back for 2023. Monday, December 18, 2023, at 7:30 pm. See Golden Gate Symphony Messiah for info. The San Francisco City Chorus also is doing a Messiah sing-along on Dec 9, 2023, at 3 pm. Lakeside Presbyterian Church, 201 Eucalyptus Drive. See Chorus Messiah more info.
Christmas Activities
The Dickens Fair is back for 2023!
The 2023 Dickens Christmas Fair is returning to San Francisco at the Cow Palace for five weekends, Nov 18 - Dec 17, 2023. Get in the Christmas spirit, sample the roasted chestnuts and ale, and pick up some gifts. Wander through the lamp-lit streets of Victorian London in this extremely popular recreation of another time and place. The entire Cow Palace arena is converted into street after street of vintage shops and pubs, with costumed actors selling food and Christmas items. A San Francisco tradition since 1970. It's lots of fun: plays, music, pantomimes, Punch and Judy, Christmas carols, and more.
Ice Skating in Union Square
More ice rinks in San Francisco:
Holiday Ice Rink, on the Embarcadero (2023? TBA). A 30-year holiday tradition, reopened Nov 6, 2019, and then closed through 2022. Hopefully it will return in 2023. Outside of Four Embarcadero Center, by Justin Herman Plaza, across from the Ferry Building.
Yerba Buena Gardens (open for 2023). Open year round, indoor rink at Yerba Buena Gardens. Holiday decorations. Adults $14. See ice skating for info.
The Dickens Fair has an ice rink, along with all the other festivities. See Dickens Fair for more info.
Huge Christmas Trees in the City
Several locations in San Francisco have massive Christmas trees set up outside to enjoy.
Union Square Christmas Tree
Every year, Macy's contributes the enormous Christmas tree in Union Square. In the past, the lighting ceremony has included performances by the San Francisco Boys Choir and the Oakland Interfaith Gospel Choir, and Santa and Snoopy have made a visit. For 2022, no tree-lighting ceremony was held, but the tree was lit up November through January 1, 2023. 2023 events TBA.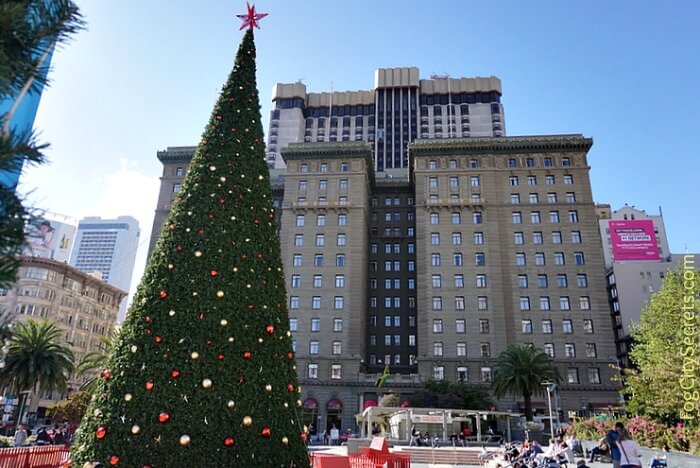 Pier 39 Christmas Tree
Pier 39 puts up a 60-foot Christmas tree at the entrance to the pier every year. They do a tree-lighting show on the hour from 5 to 10 pm, every night during the season through the first week of January. Synchronized Christmas music and lights. 2023 Pier 39 holiday celebrations Nov 21, 2023 through Jan 7, 2024. More info on things to do at Pier 39.
Ghirardelli Square Christmas Tree & More
Ghirardelli Square has a big tree every year as well. Music and crafts, also. Enjoy some hot cocoa and other goodies during the festivities! Santa will be there, too. They usually do outdoor screenings of some Christmas movies each year. See what's happening at the square: Ghirardelli Square holiday activities. Ghirardelli Square's Winter Wonderland: TBA. More on things to do at Ghirardelli Square.
The Presidio Tree
Lighting the big tree on the Main Post of the Presidio is typically the first week of December. 2023 date TBA. Sing Christmas carols and enjoy the refreshments, then do a walk in the forest with lanterns at 6 pm. Check events calendar for Presidio ceremony.
More Pretty Christmas Trees
The Fairmont Hotel's lobby is gorgeous any time of year, but especially so during the Christmas season. In addition to a beautiful tree, the Fairmont sets up a life-size, gingerbread house each year, that you can walk through (but not nibble on). It's really made of gingerbread, candy and icing, but it's not edible. You can watch the toy train running along the track. A delight for kids. The gingerbread house is back for 2023. You can even book a private meal inside the house! Another yummy tradition: book a Holiday Tea at the Fairmont, or enjoy a Christmas buffet. See Fairmont holiday bookings for info and reservations.
San Francisco Christmas Lights
Union Street. Decorated and lit up between Van Ness and Steiner St.
Tom & Jerry's house. Decorated doesn't begin to describe this house in the Castro! 3650 21st Street. Santa shows up every evening, too, with candy canes for the kids, between 6:30 and 10 pm through Dec 24. Decorations up through Dec 31. Tom passed away in 2020 but the tradition continues.
SF Zoo. Santa and his reindeer aren't coming to the zoo this year, but the elves are hiding everywhere. Try to spot the all elves hiding all around the zoo. See SF Zoo for more info.
City Hall. San Francisco's City Hall is lit up in red and green for the holidays every year.
The Embarcadero Center buildings. All four Embarcadero Center buildings are lighted to look like giant Christmas presents, starting mid-November. Right near the Ferry Building on the Embarcadero.
Golden Gate Park Winter Lights. The park often has a cool program during the Christmas season involving lights at night. TBA for 2023. Might be Entwined again, last year's event: a forest of light in Peacock Meadows.
Happenings around the Rest of the Bay
Holiday Light Displays
Christmas Tree Lane – Palo Alto, through December 31
Holidays at the Winchester Mystery House – San Jose, through December 31
Christmas at Temple Hill – Oakland, through December 31
Christmas in the Park – San Jose, through January 1
Blinky's Illuminated Holiday Drive-Thru – San Jose, through January 1
Garden of d'Lights – Walnut Creek, through January 8
Entwined – San Francisco, through March 12
Amusement Parks & Zoos
Holidays at Gilroy Gardens – Gilroy, through December 31
Boardwalk Winter Wonderland – Santa Cruz, through January 1
Six Flags Holidays in the Park – Vallejo, through January 1
Winterfest at Great America – Santa Clara, through January 1
Glowfari – Oakland, through January 29
Other Holiday Events & Activities
'Tis the Season for Science – through January 8
Glow at The Exploratorium – San Francisco, through January 29
New Years Celebrations
Balloon Drop at Chabot Space and Science Center – Oakland, December 31
Baby Rave – Berkeley, December 31
Noon Years Eve Party at Hiller Aviation – San Carlos, December 31
Noon Years Eve at Happy Hollow – San Jose, December 31
Happy New Year, Charlie Brown! – Santa Rosa, December 31
Japanese New Year's Bell Ringing Ceremony – San Francisco, December 31
Holiday Ice Rinks
Enchant at PayPal Park – San Jose, through January 1
San Mateo on Ice – San Mateo, through January 8
Kristi Yamaguchi Holiday Rink – San Ramon, through January 8
Brentwood on Ice – Brentwood, through January 8
Walnut Creek on Ice – Walnut Creek, through January 16
Holiday Ice Rink in Union Square – San Francisco, through January 16
Ice at the Veranda – Concord, through February 14