Key News and Trends Impacting Your Local Market
Since most California counties are beginning to lift restrictions, we will start to see the housing market steadily recover. Although an exact end date to quarantine does not exist, on May 20th, Governor Newsom confirmed that more than half of the state's 58 counties were moving into phase two of the widely adopted "four-pronged approach."
On June 3rd, the California Association of Realtors (CAR) released survey data sampling California agents and their clients over the last week of May. The results revealed that buyers and sellers are now operating under very different expectations about the real estate market: the majority of buyers expect home prices to be lower while only a small number of sellers are reducing their listing prices.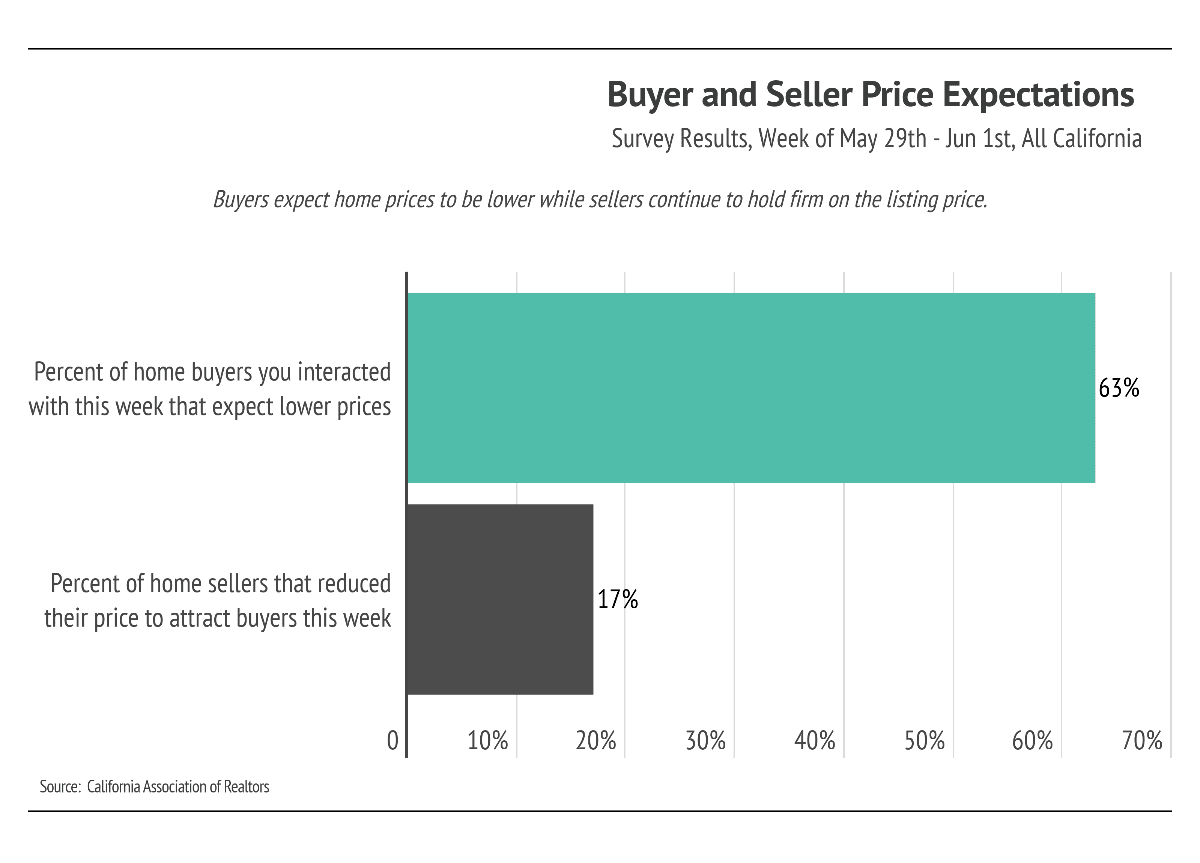 In the long run, who is right will depend on how long the economic recovery takes. In the short term, however, the data tells us that single-family home buyers appear to have wishful thinking.
Greater Bay Area median home prices did not decline enough for sellers to cut the listing price. In May, single-family home prices dipped slightly compared to April, but they continued to look resilient. In fact, prices were still higher compared to February before the pandemic began.
Compared yearly, prices were down slightly. Single-family home prices were only down by 3% in May year-over-year, trending in line with California as a whole since March.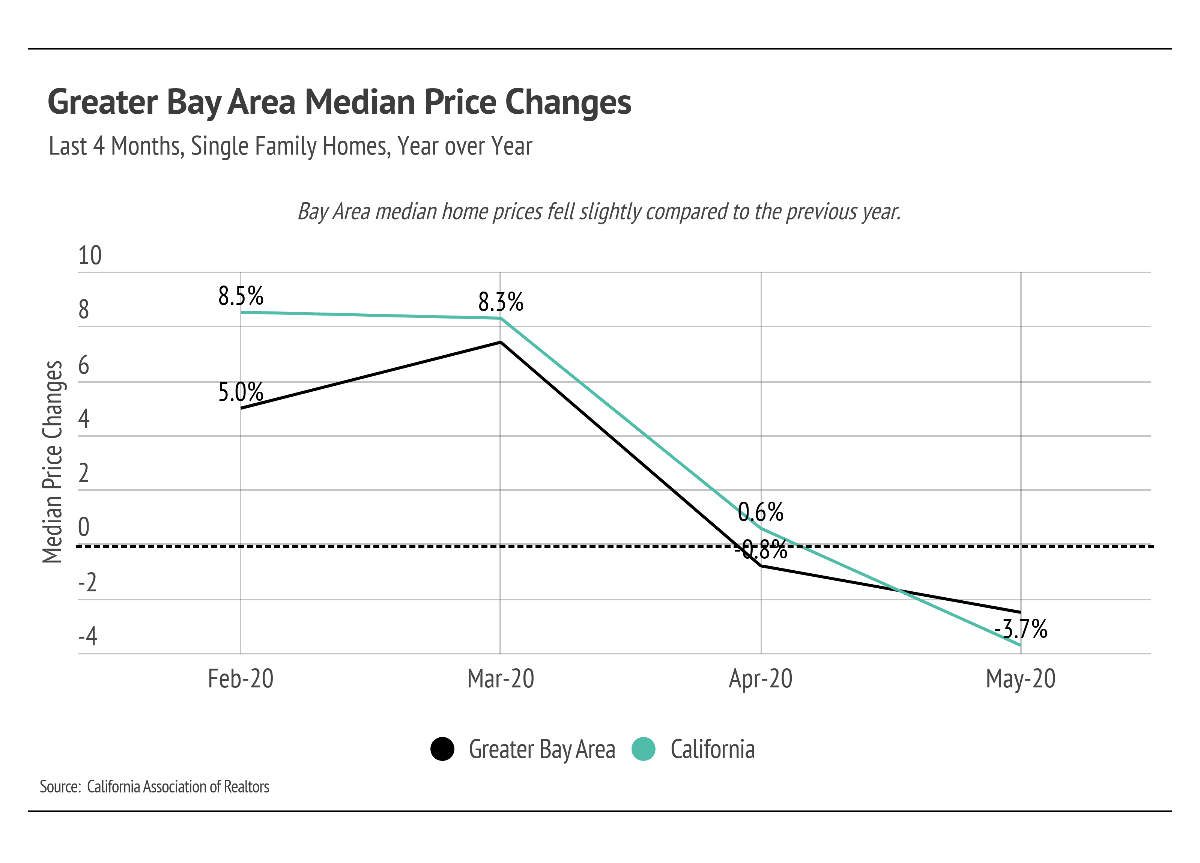 Broken down by county, May prices fell throughout most of the Greater Bay Area. In Napa and Santa Cruz, prices fell by double digits. Marin's median price, notably, increased by 10%.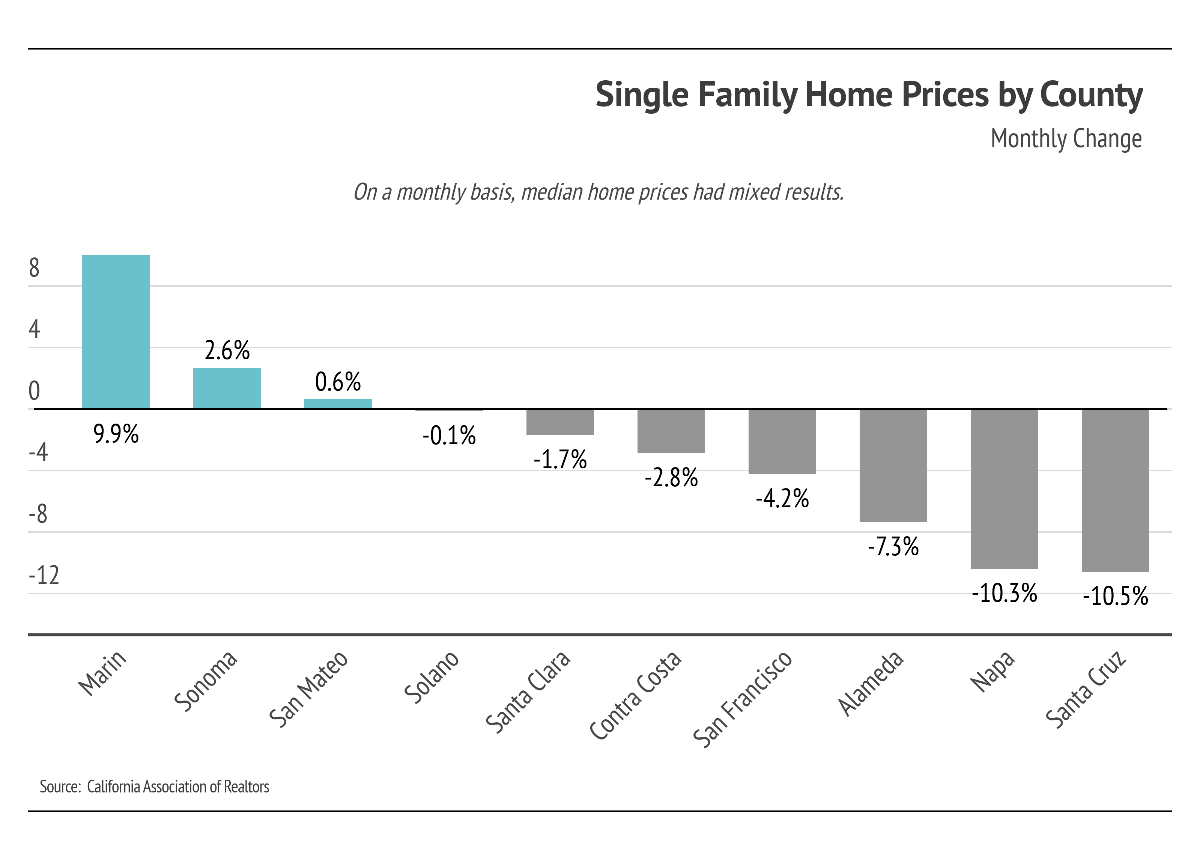 Weighing in on the subject in his June 3rd market update, Jordan Levine, Deputy Chief Economist at CAR, said:
"We [now] expect some price impacts eventually as a result of some of the negative economic impact. . . . The price impacts will be in the modest category of the low single digits for 2020."
Evidence supports the idea that price declines will only be in the low single digits for the 2020 calendar year. The market continues to see a larger sell-side impact, meaning that housing supply has declined more than buyer demand. The survey data below shows that far more sellers withdrew listings than buyers withdrew offers.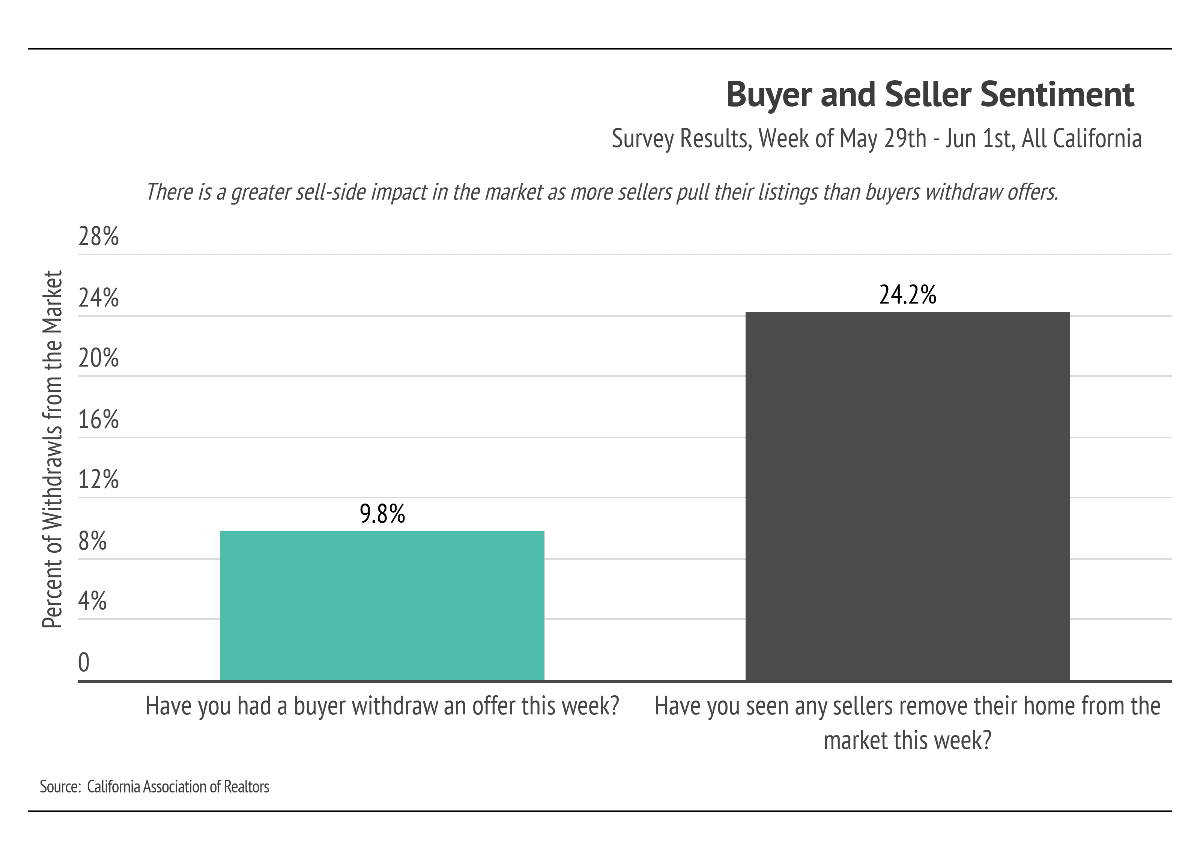 While sellers continue to grapple with the state of the market, California is again facing a major housing shortage, which prevents prices from dropping. The CAR survey also provided the most recent mortgage application data for both California and the United States. In May, California mortgage applications for home purchases (as opposed to refinances) rose significantly from April and are only down 1.7% from this time last year. Mortgage applications correlate with buyer intent to purchase a property and indicate the number of homes under contract and home sold.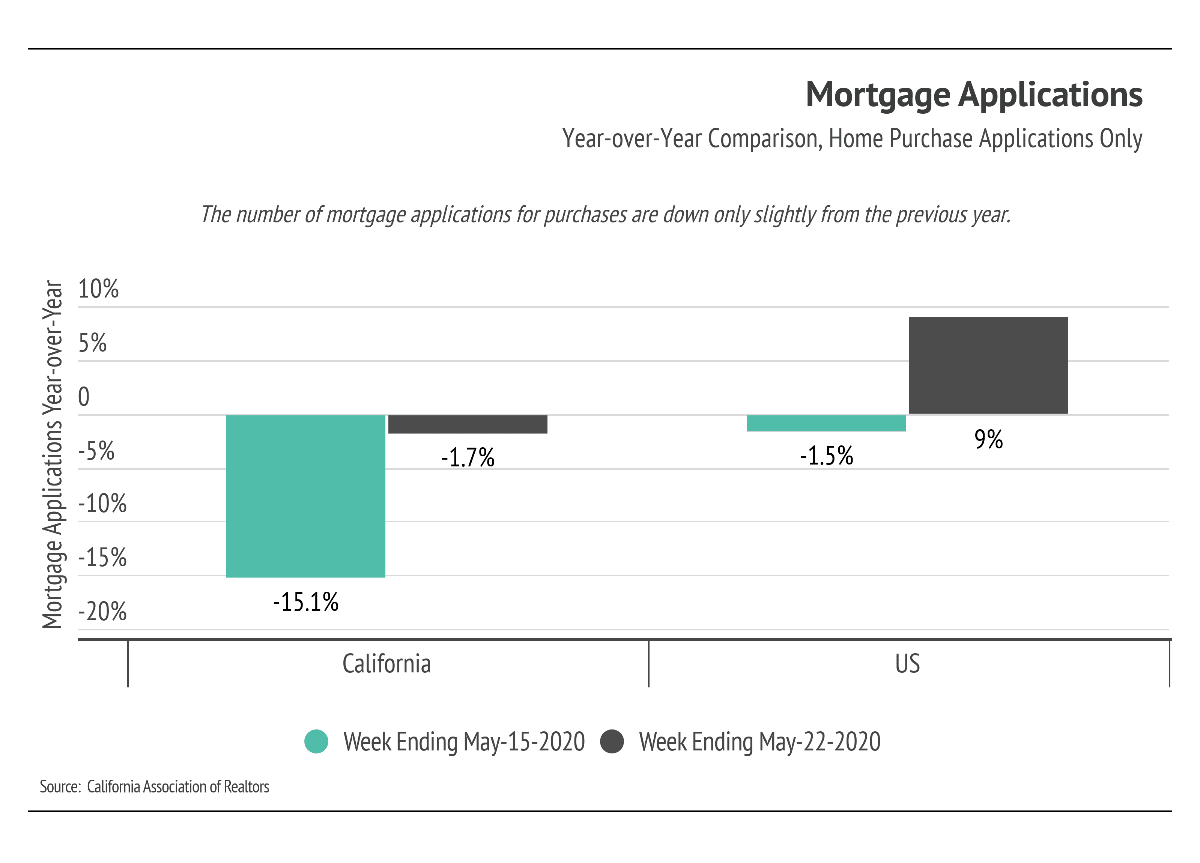 All of this is welcome news. The May data assures homeowners that their home equity is still intact as restrictions begin to lift. It should also encourage buyers who may have been delaying a home purchase to enter the market.
A fourth CAR survey result illustrates the degree to which both supply and demand is currently stagnating. Over half of the California realtors surveyed indicated that they had at least one client that was delaying buying or selling until conditions changed. We assume that this pent-up demand will give way in the coming months to more participation and market activity from both sides.
Alongside pent-up demand, there are the changes to daily living which may impact home purchasing decisions in the future. In order to ensure employee safety, companies have massively shifted toward a remote workforce, which creates new space requirements for potentially millions of Americans. As a result, millions of Americans may need to consider purchasing a new home that better accommodates work from home. Remote work also means employees can live almost anywhere. Without physical restrictions, employees may look elsewhere for places to live such as locations with lower costs of living. Between new housing requirements, low rates, and pent-up activity, there is potential for a busy summer buying season that is similar to what we usually see in the spring.
---
Housing Market Update for the Greater Bay Area
Over the last three months, the housing market has changed so rapidly that we began to look at the data on a weekly basis rather than a month monthly basis (as is typical) to illustrate how significantly the market has changed over a shorter timeline.
In the month of May, the weekly Greater Bay Area housing data for single-family homes supported the survey data from CAR. First, housing inventory is again in decline as sellers continue to hesitate and withdraw listings from the market.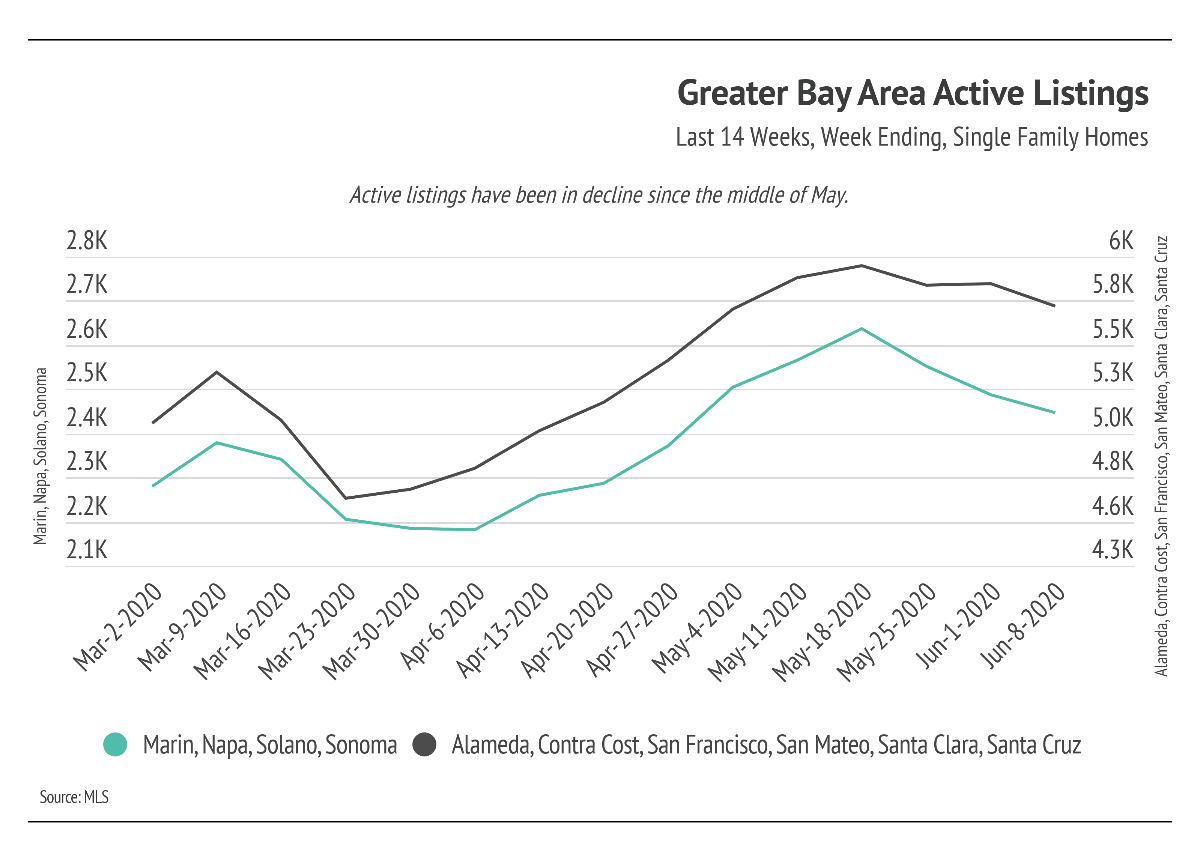 The decline in inventory is also due to an increase in buyer demand; homes under contract have increased steadily since the phased reopening of the economy began. They have risen well past pre-pandemic levels in early March.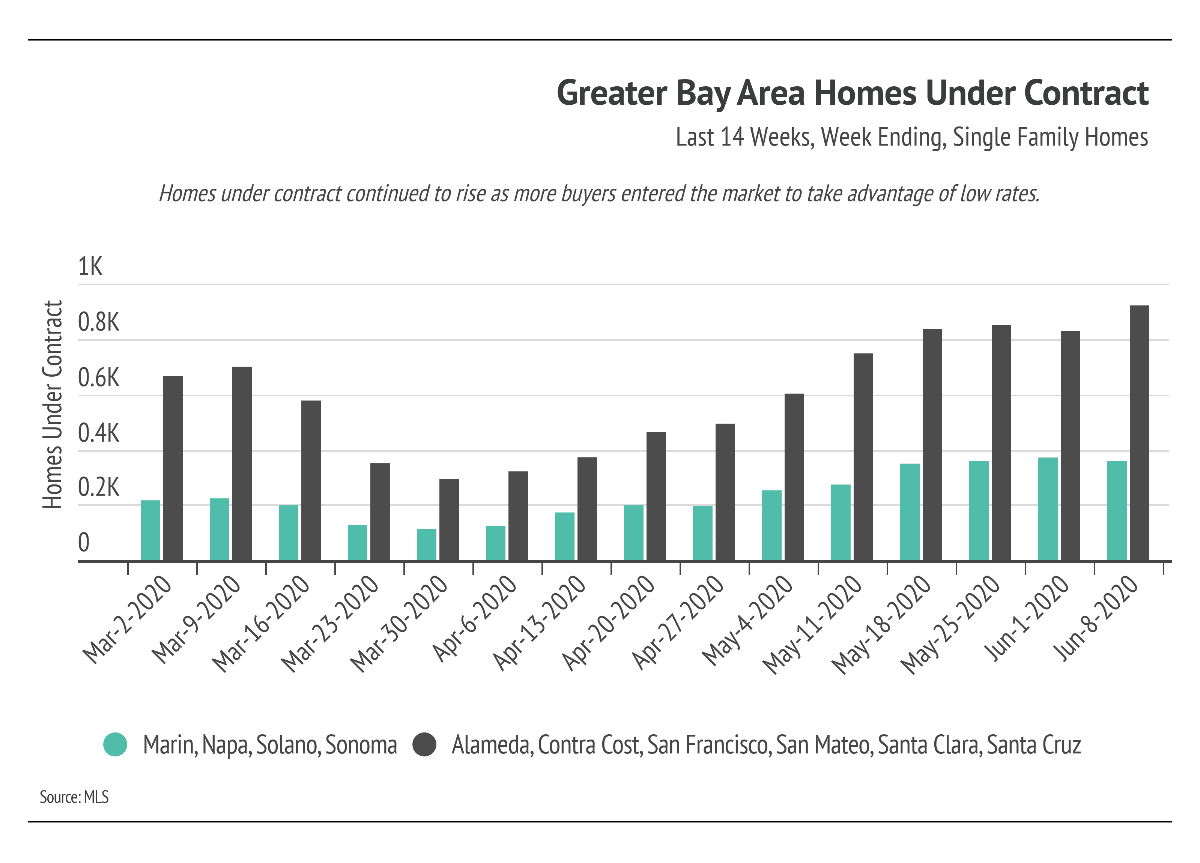 The sale-to-list ratio reflects the change in the original list price and the final sale price of a home. For example, a ratio of 100% means that a home sold for the price at which it was most recently listed. In the Bay, sale-to-list prices have been consistent; buyers and sellers are negotiating the final sale price in line with the list price. Napa saw the biggest discounting from sellers.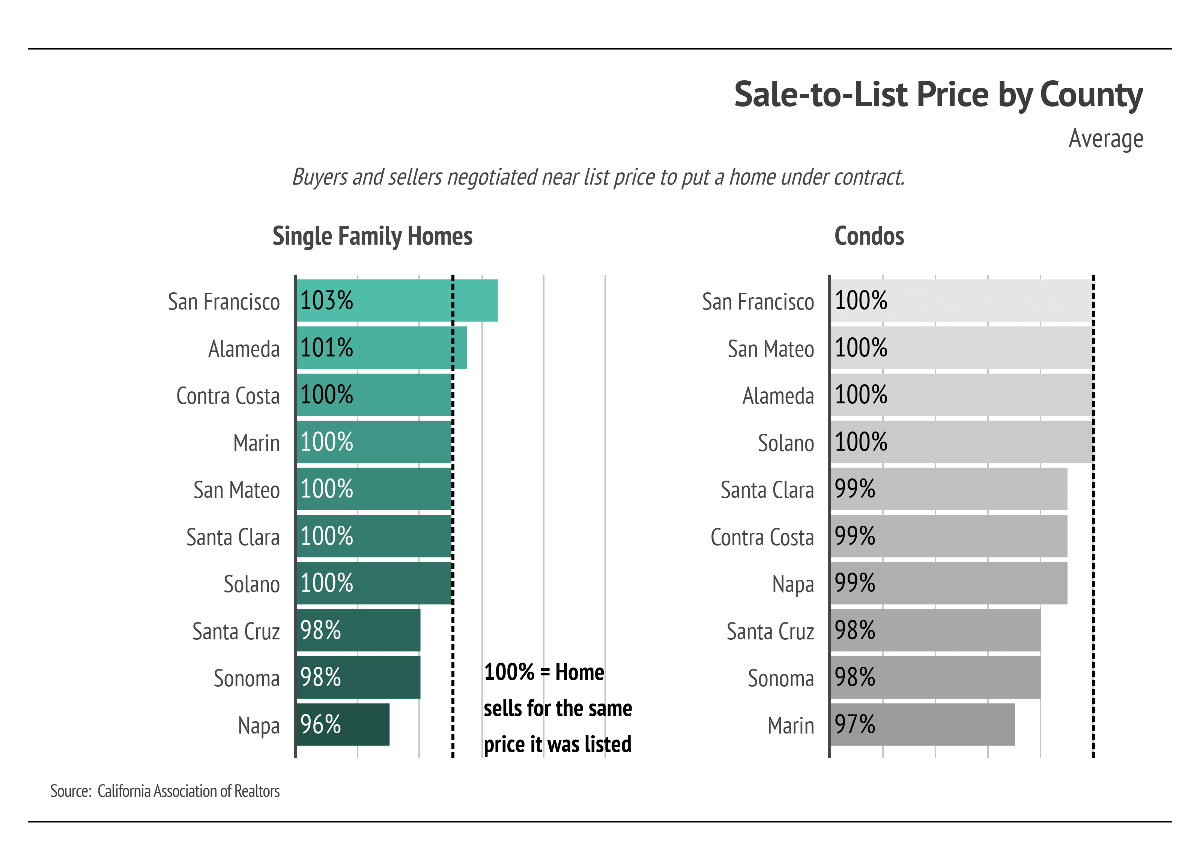 We also look at months supply of inventory, which measures how many months it would take for all current listings on the market (including listings under contract) to sell at the current rate of sales. In May, the months supply for single-family homes rose. This may seem counterintuitive to the weekly data above (which shows less inventory and more homes under contract), but remember that months supply compares inventory to sales. Low sales volumes recorded in May are the result of the low volume of homes under contract in late March and early April; said another way, homes under contract turn into sales around 30 days later. Expect recorded sales volume to increase in June and months supply to decrease.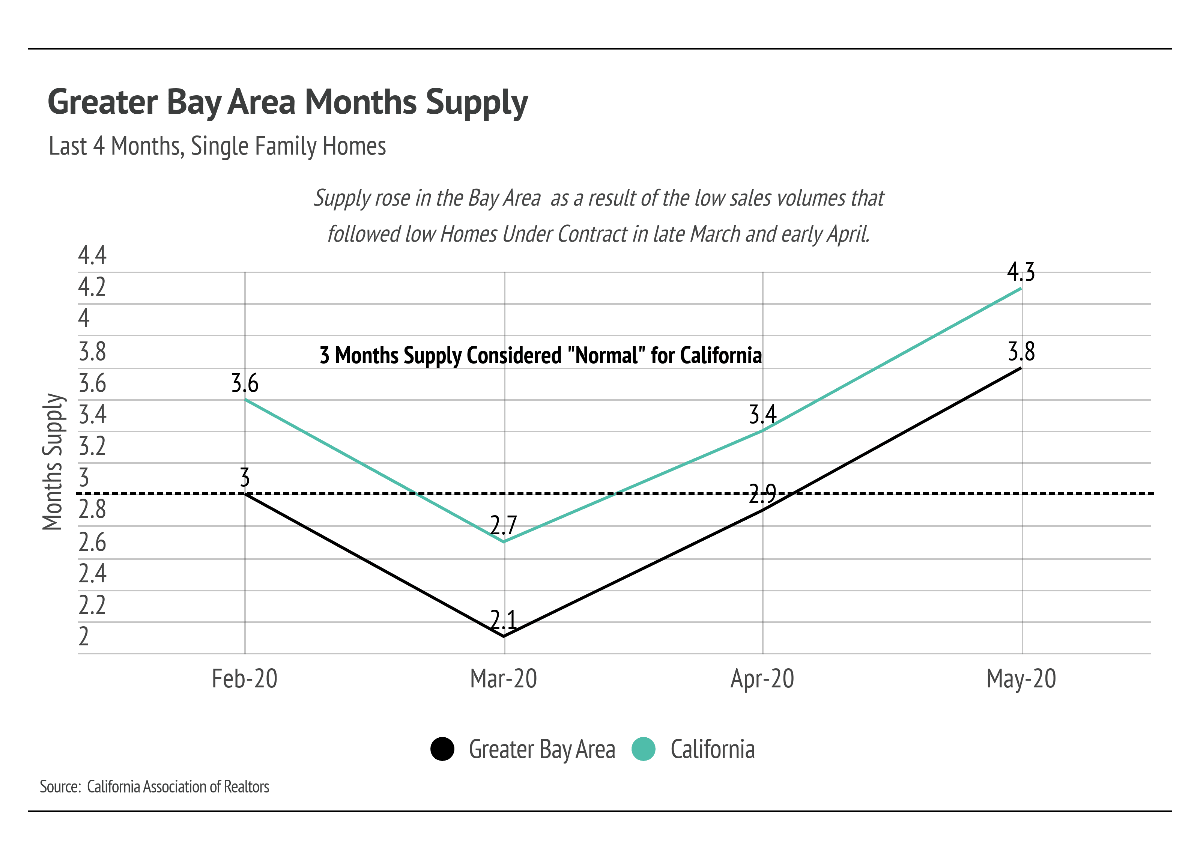 In May, sales volume was down 6.7% from the previous year and rebounded from April lows. This shows the speed to which the Greater Bay Area real estate market is recovering from the pandemic.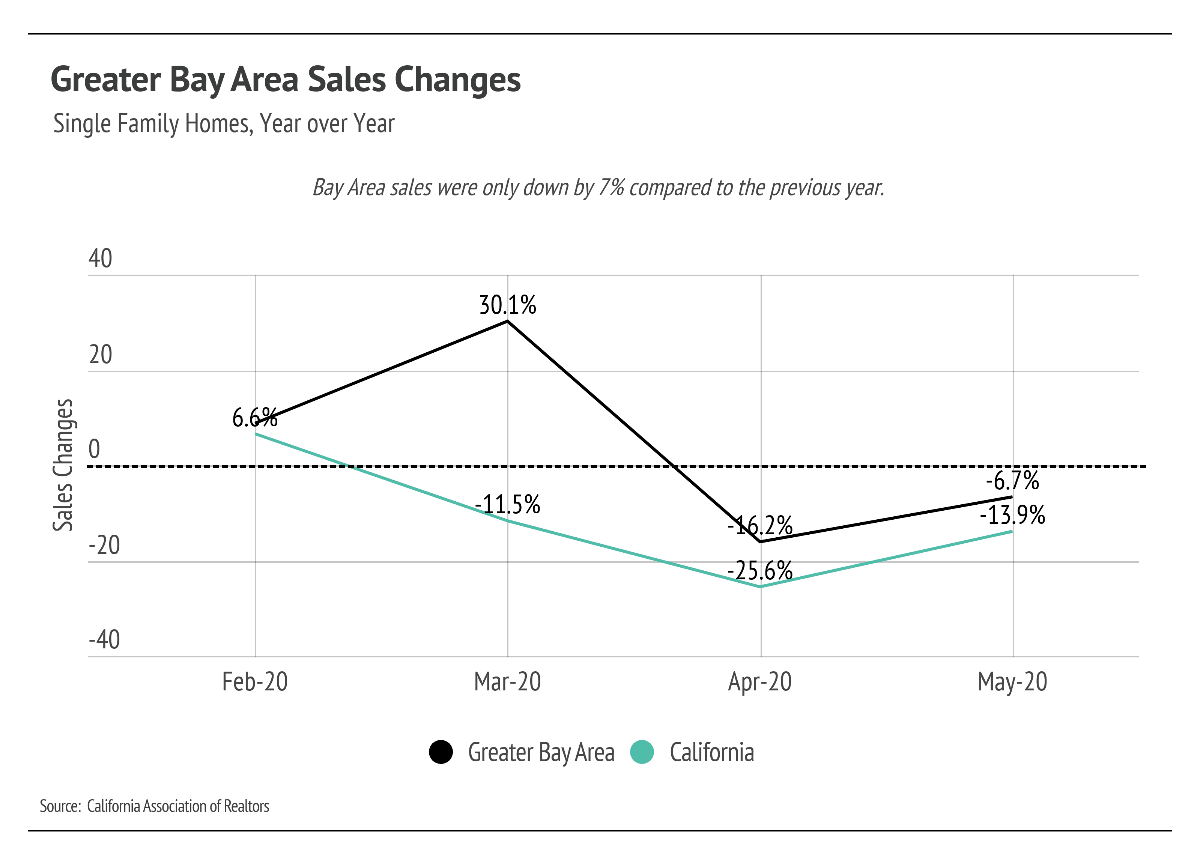 As we discussed in previous blogs, the fundamentals of the housing market were strong before the global economy stalled, and they have continued to show stability during the months of quarantine.
Looking ahead to July, we anticipate housing market activity to increase as pent-up demand turns into participation from both sides. We will closely monitor the evolving state of the market to make sure that our clients are pricing and negotiating to get the most value out of their transactions.
As always, we remain committed to helping our clients achieve their current and future real estate goals. Our team of experienced professionals would be happy to discuss the information we've shared in this newsletter. We welcome you to contact us with any questions about the current market or to request an evaluation of your home or condo.