Key News and Trends in July:
Data released on July 8, 2020 by Johns Hopkins University, showed that California was among 12 states with record-high, seven-day averages for daily new coronavirus cases. California also saw a surge in the number of hospitalizations. Gavin Newsom said at a news conference on July 8th that over the previous two weeks, the state has seen a 44% increase in hospitalizations and a 34% increase in intensive care unit (ICU) admissions.
In our May newsletter, we cited the same sources, which predicted that nationwide hospitalizations would be near zero by July. Now, experts predict that hospitalizations will continue to trend upward as we head later into the year. This will prolong some of the negative economic effects that the pandemic has already induced—nearly one in every six California workers is out of a job, and many others face reduced hours.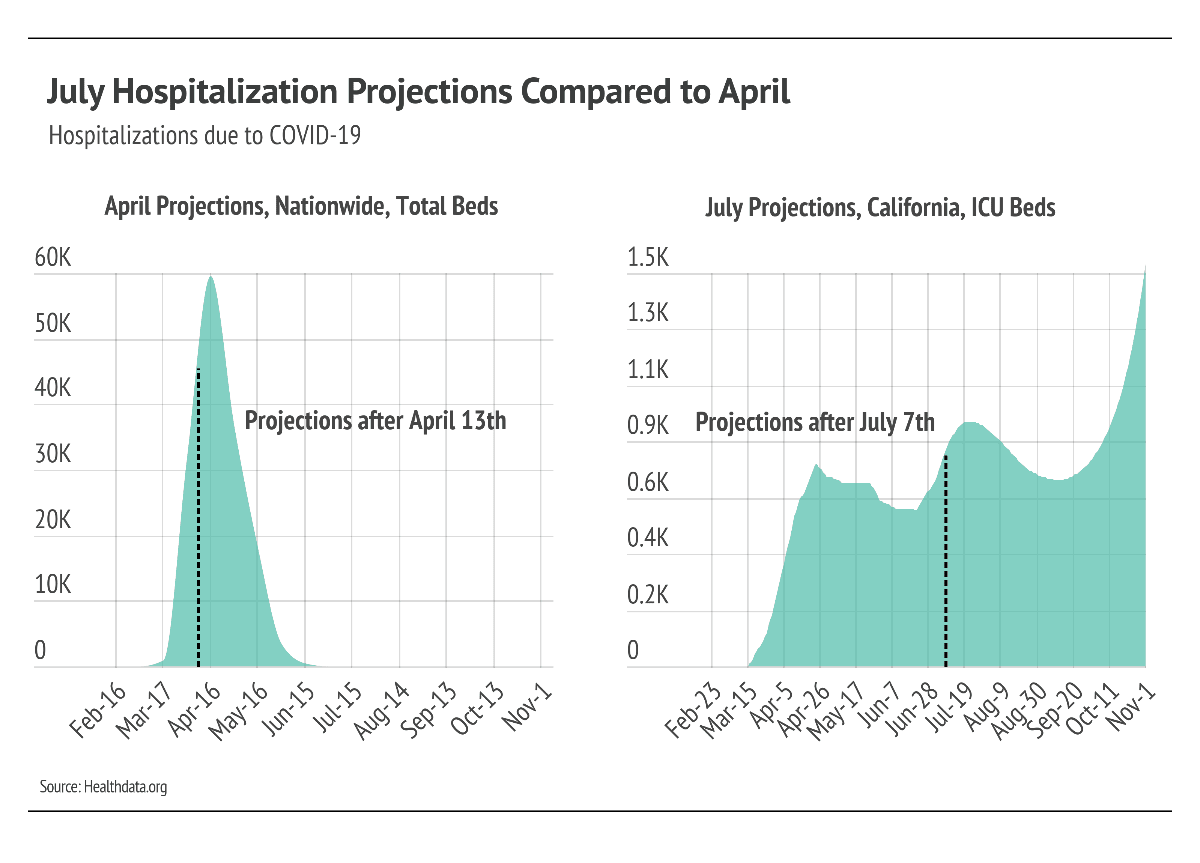 As reported by the San Francisco Chronicle, rents for a one-bedroom apartment dropped most in the cities richest in high-paying tech jobs. In Mountain View, home to Google, rents fell 15.9% year-over-year, while in Apple's hometown of Cupertino rents dipped 14.3%. In San Bruno, where YouTube has its offices, rents tumbled 14.9%.
The East Bay rental property market is one sector bucking the effects of the prolonged pandemic. In the East Bay, rents are headed in the opposite direction. In Berkeley, rents have dropped by less than 1% while in Oakland rents are up 4.9% from May of 2019. The East Bay may become even more attractive post-pandemic among Silicon Valley employees who want to stay in the Bay Area but don't feel the need to live close to their corporate campuses. And while rents have rallied in Oakland, the average one-bedroom in that city — $2,350 a month — is still a bargain compared to Menlo Park, where the average unit is $2,980, and Palo Alto, where the average is $2,810. This all plays an important part in the general housing market: one way to value a home is to calculate the net present value of rental income were the owner to rent the property.
Meanwhile, both state and local housing markets remain resilient, partly because of healthy home sales in an undersupplied market, which is a phenomenon also seen nationwide. On June 29th, the National Association of Realtors (NAR) reported that pending home sales mounted a record comeback in May, rising 44% and chronicling the highest month-over-month gain since the index's inception in 2001.
---
July Housing Market Updates for the East Bay
In the month of June, single-family home prices rose in both counties with Contra Costa rising to its highest level on record at $750,500. Prices increased by 9% since May 2020.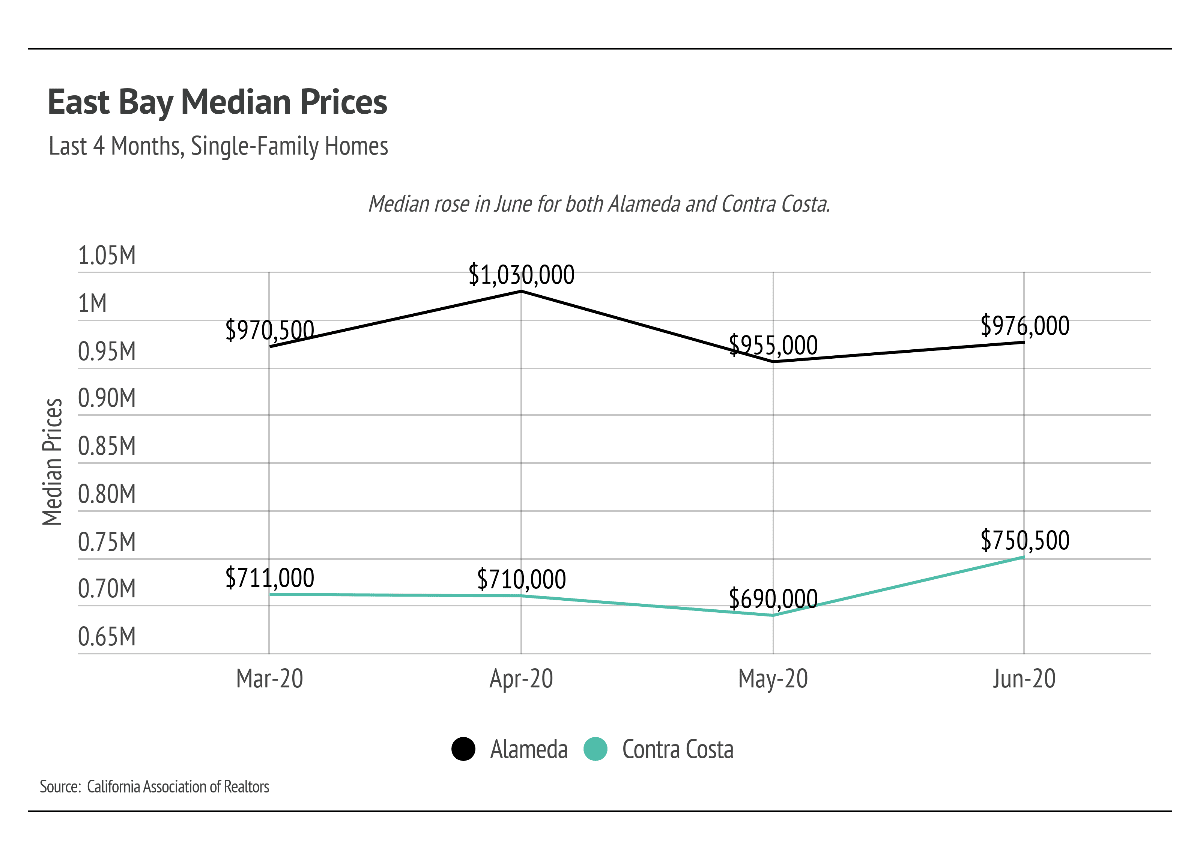 Compared yearly, single-family home prices were up. In Contra Costa, prices moved out of the red to finish 7.5% higher from June of 2019.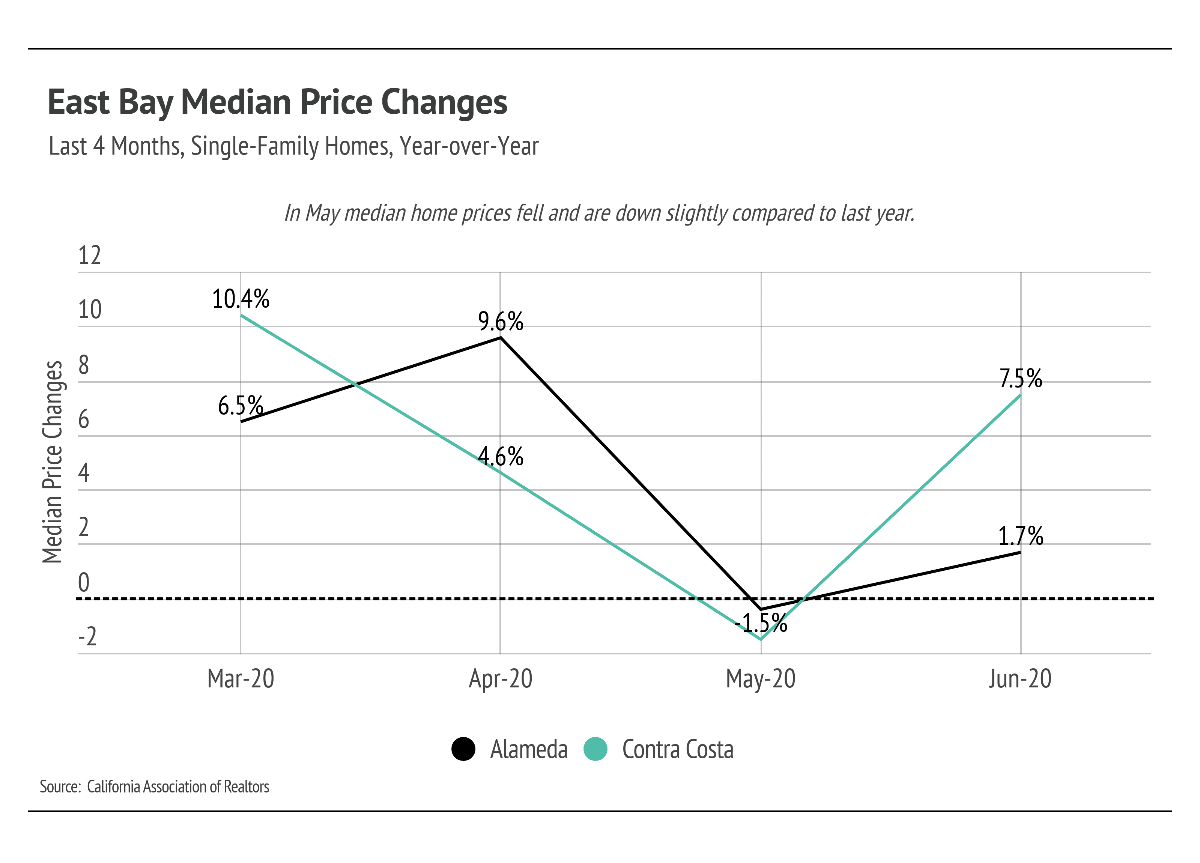 Similar to San Francisco and neighboring counties across the bay to the west, condo prices struggled. June saw condo markets decline nearest the economic centers of San Francisco and Silicon Valley. While the condo markets of Alameda and Contra Costa had lighter falls, they were both down.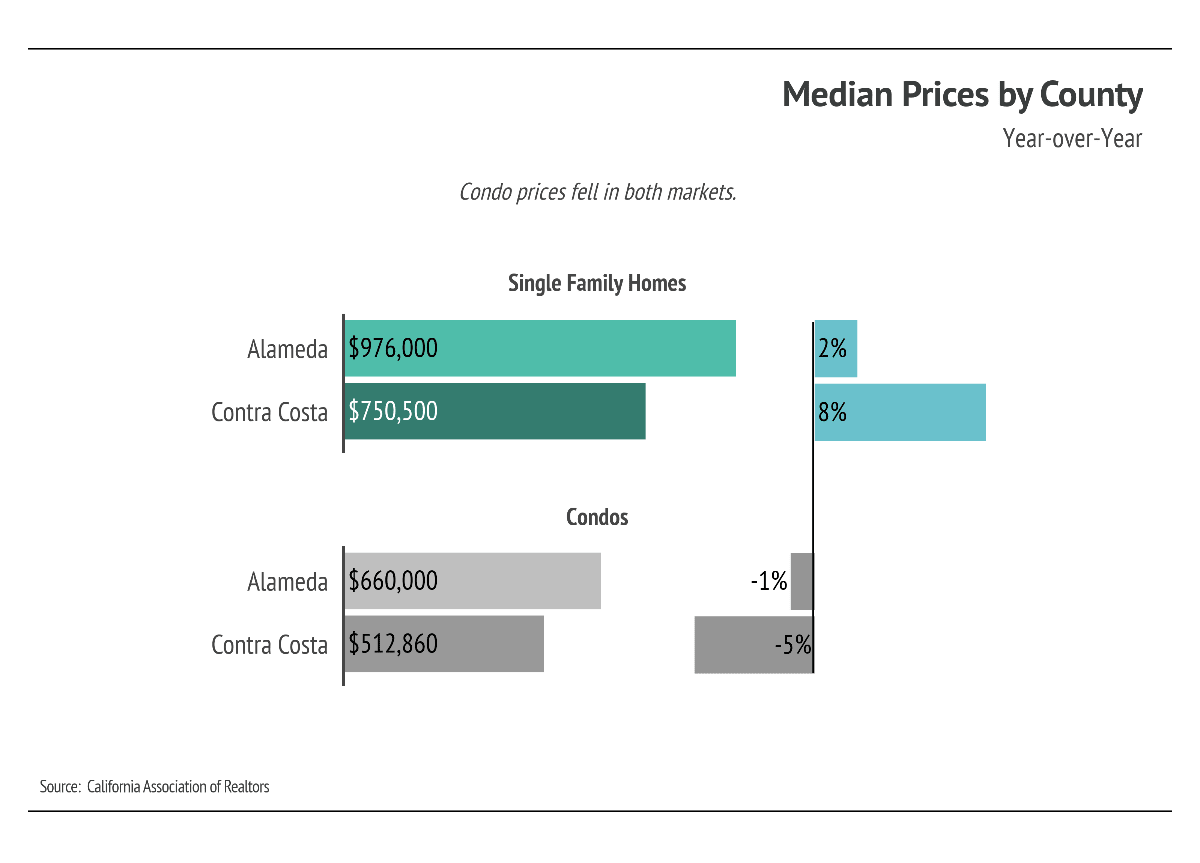 The East Bay's single-family home prices were buoyed by lack of supply compared to demand. As we continue to report, the biggest impact has been on sellers who face logistical challenges in selling their homes, such as the safety of inviting prospective buyers into an occupied home. The majority of sellers are simultaneously buyers themselves, which means they are navigating two transactions. For this reason, sellers have taken a tempered approach to entering the market.
Unfortunately, COVID-19's rise seems to have amplified buyer and seller tendencies. Weekly new listings for single-family homes are having a tough time rising above pre-pandemic levels. During a typical year, the summer months see many more new listings than winter.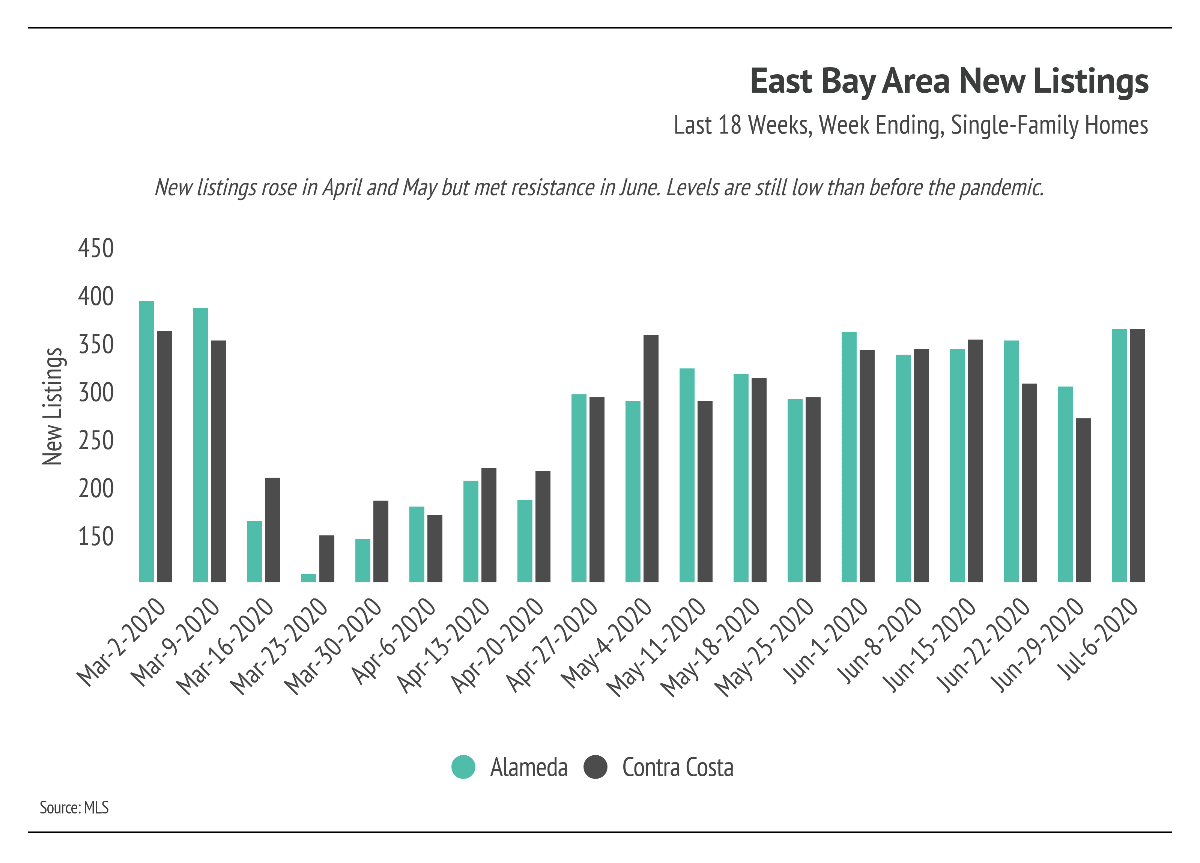 Meanwhile, buyers have been more aggressive. Matt Levin, head Housing and Data journalist for CalMatters, argues that prolonged record-low inventory coincided with the huge millennial generation reaching home buying age. Much of these hopeful and credit-worthy home buyers built up the savings to meet tight lending standards. These home buyers still want access to homeownership.
To address Levin's point, the East Bay's homes under contract have surpassed pre-pandemic levels, and continue trending upward. Since the last week of March, Alameda homes under contract have only experienced one down week.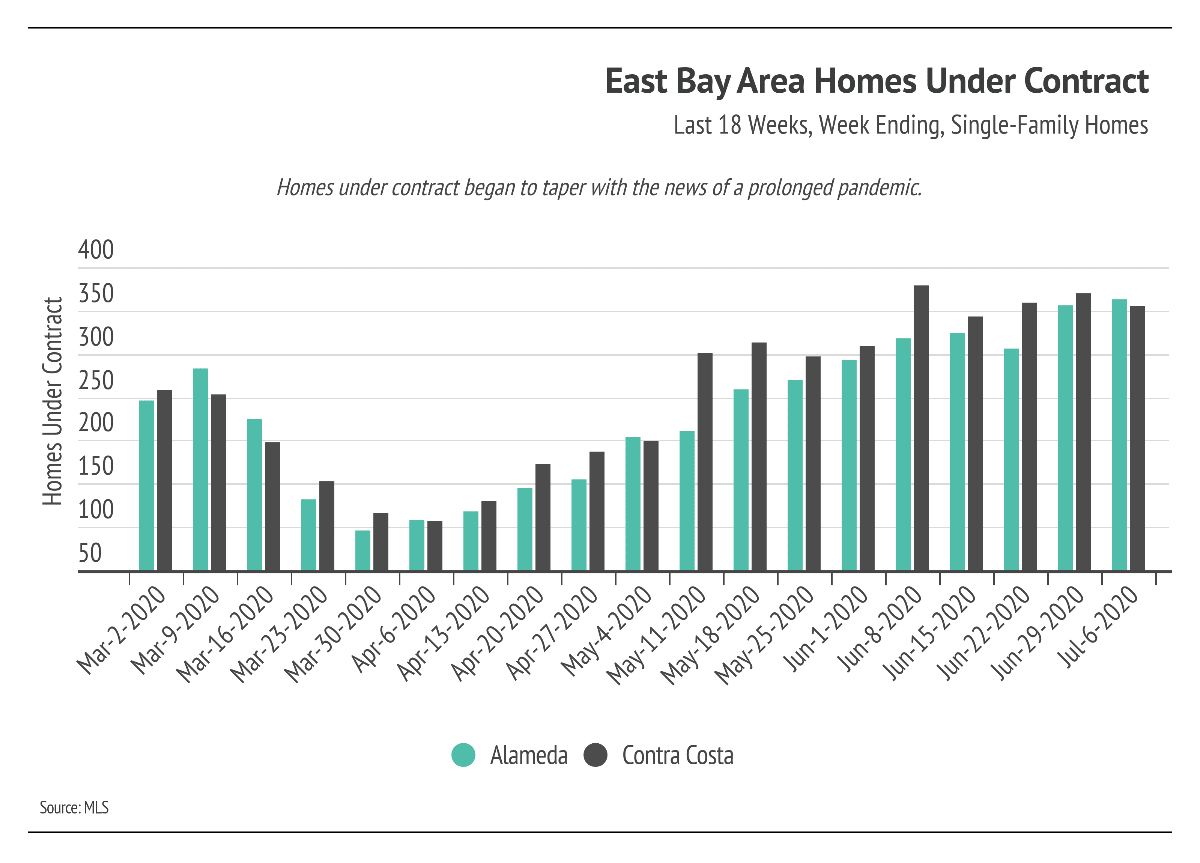 Together, fewer listings and higher sales moved inventory levels back down. Measured weekly, we can see the levels for single-family homes trended lower every week in June. This is more pronounced in Contra Costa, where housing inventory is falling back towards levels we saw in April.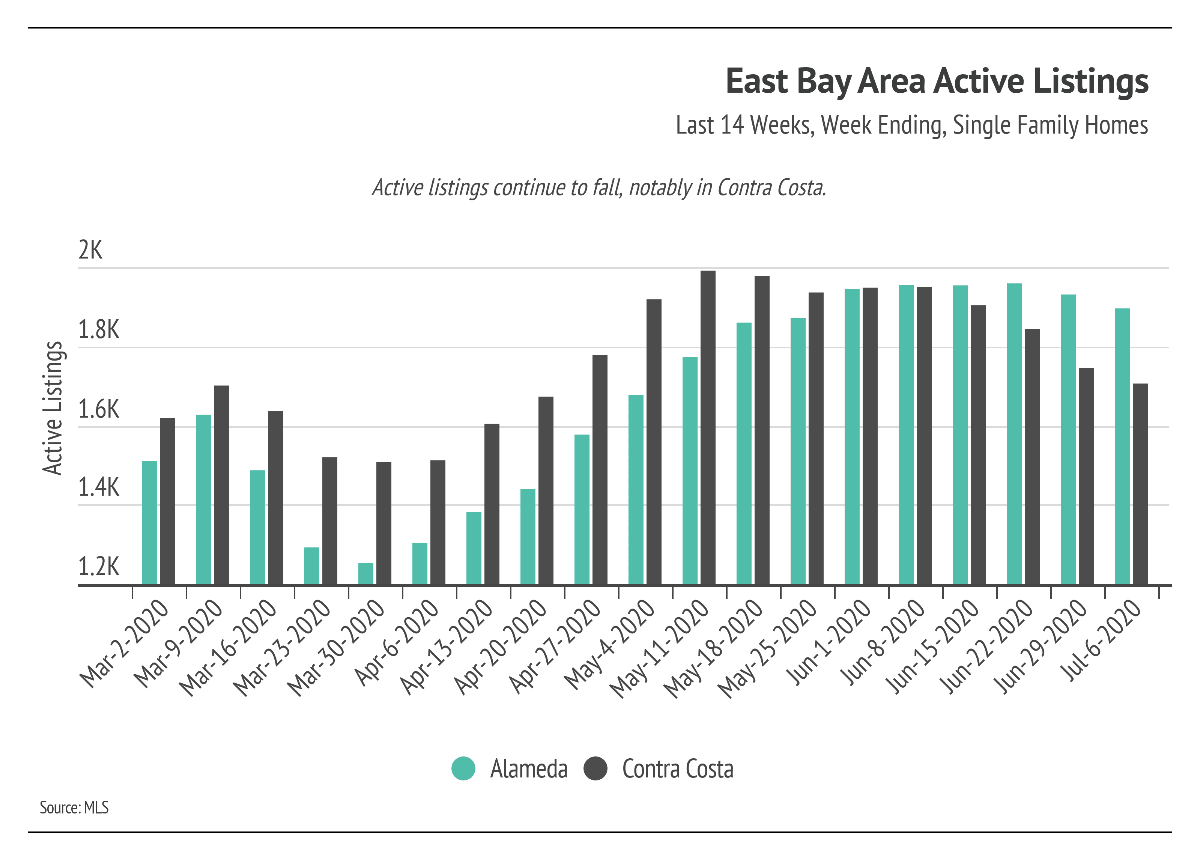 Months of Supply Inventory (MSI), the measure of how many months it would take for all the current homes for sale on the market to sell at the current rate of sales, has an average of three months in California. A number lower than three means that buyers are dominating the market and there are relatively few sellers; a higher number means there are more sellers than buyers. In June, the MSI for single-family homes fell well below the three-month average and continues to favor the sellers. Even for seasoned buyers in the East Bay, these levels of supply are low.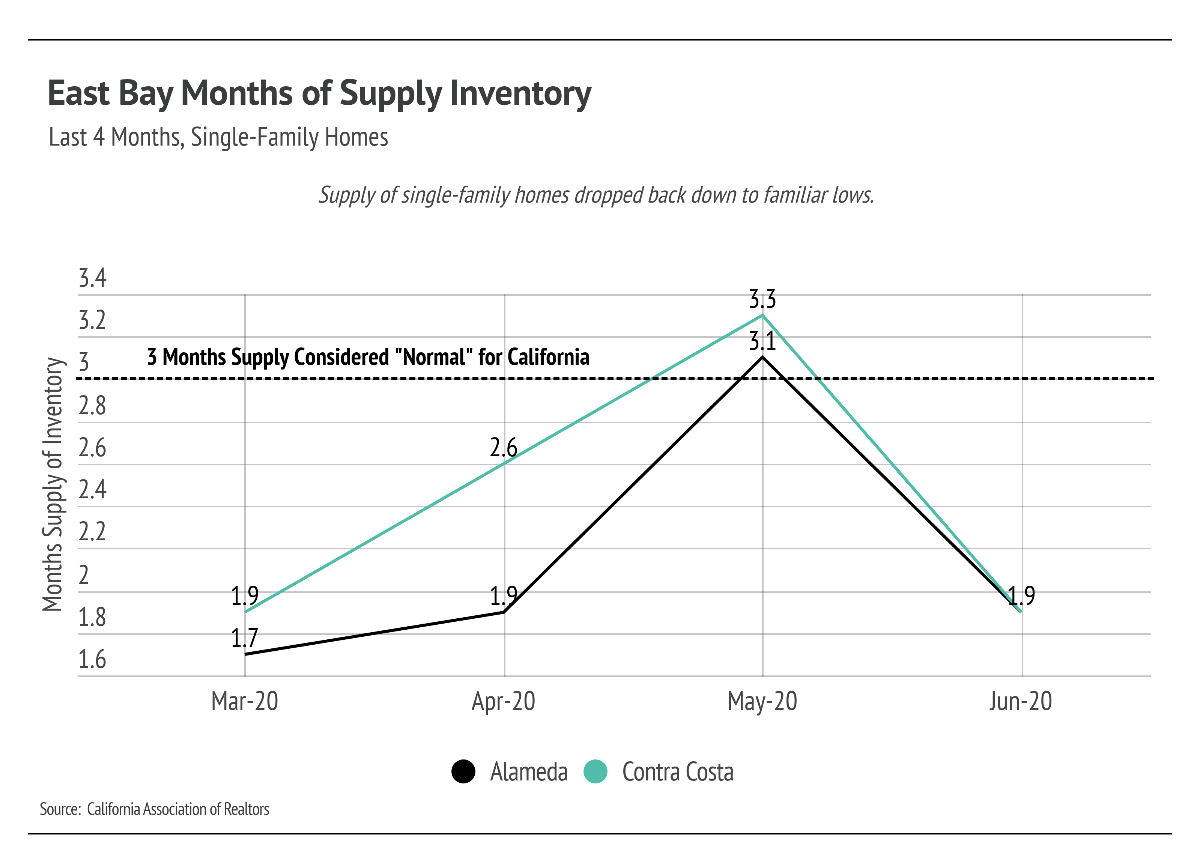 In Contra Costa, single family home MSI levels are down 20% compared to last year. Trending in the opposite direction is condos, which saw high supply levels in June. When compared to 2019, supply in both markets was up; Alameda was almost up by half.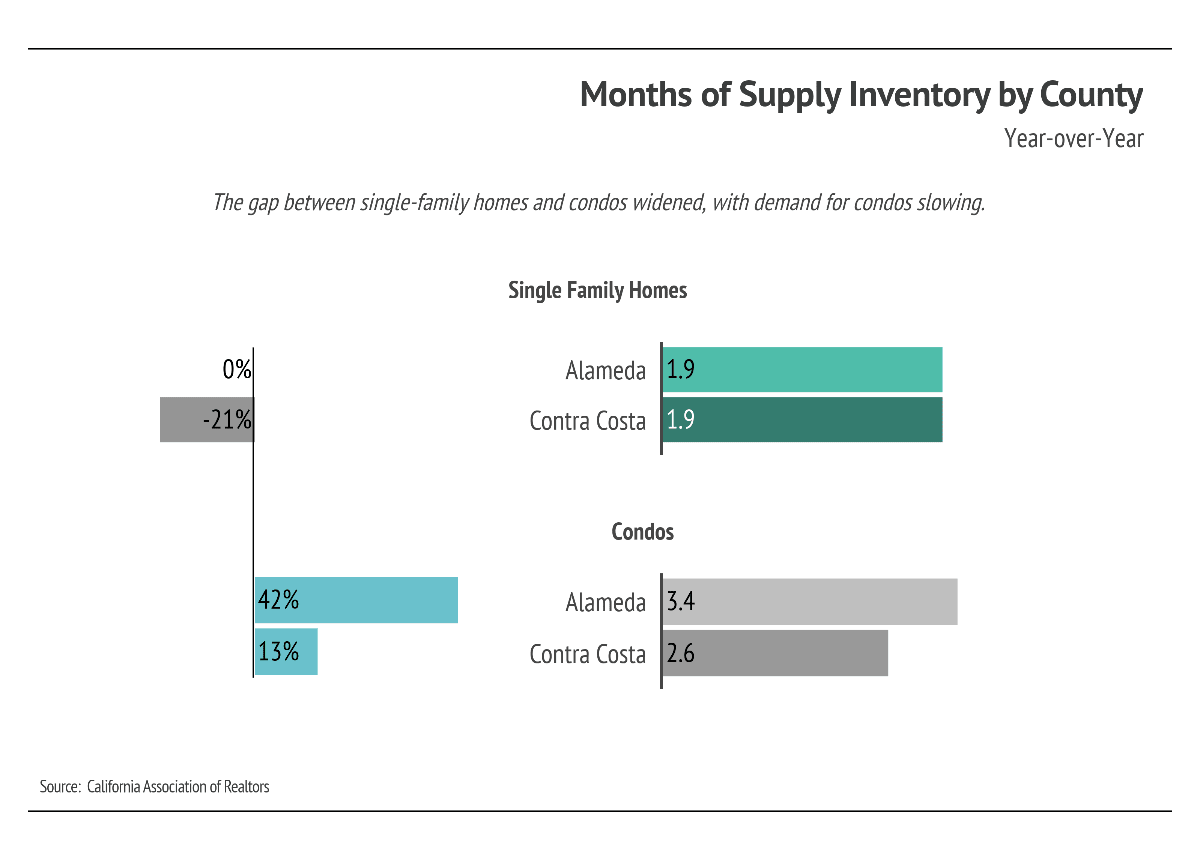 Record single family home prices indicate that there are not many bargains on the market. However, June's sale-to-list ratios—which compare the prices buyers pay to the original list prices of homes—suggests that buyers are also not paying large premiums due to bidding wars. In the East Bay, buyers negotiated prices in line with the original list price to put a property under contract.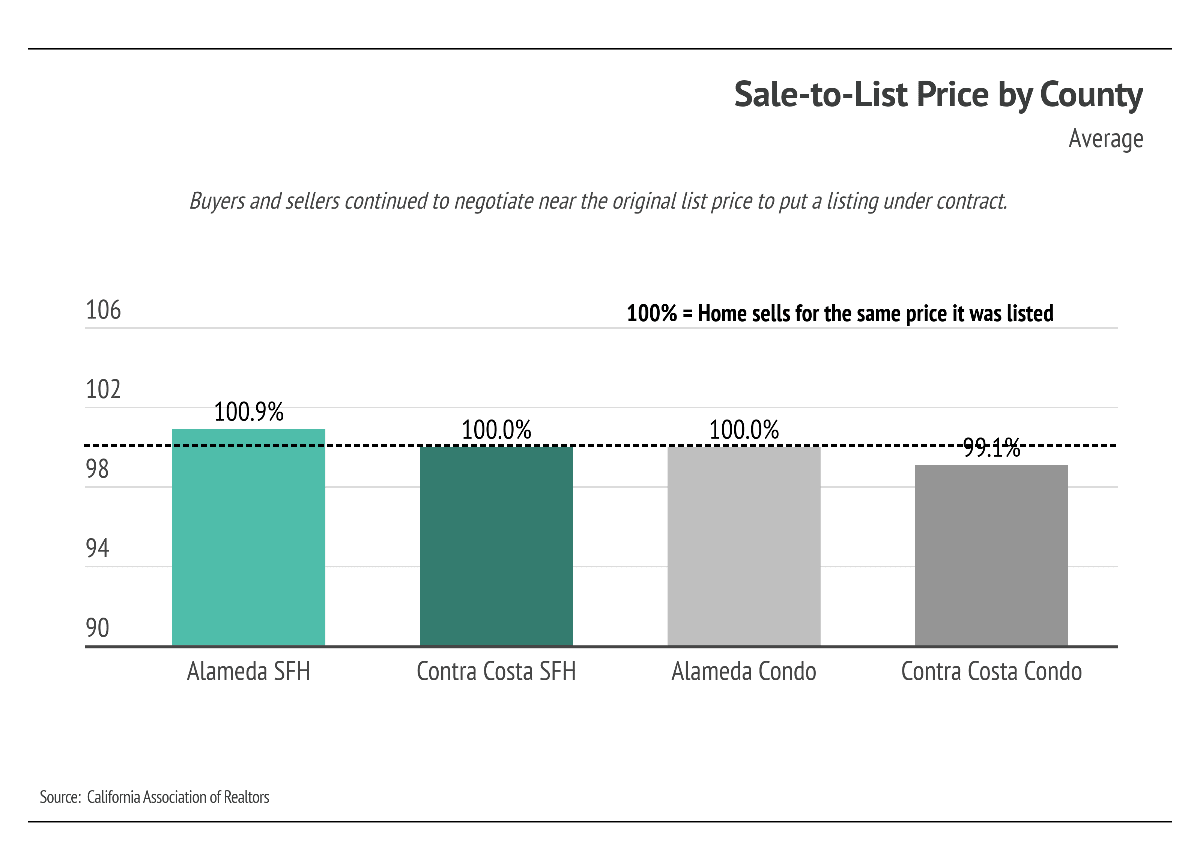 In summary, as we discussed in previous newsletters, the fundamentals of the housing market were strong before the global economy stalled, and they have continued to show stability. The prolonged pandemic will continue to cause fluctuations in the market, some of which can be measured weekly. It is now more important than ever to have access to the advice of real estate professionals.
Looking ahead to August, we anticipate the undersupply in housing to continue. The COVID-19 spike in California and across the country has created economic and personal unease. Sellers tend to be more timid during this time while buyers are more aggressive, feeding into the undersupply and lifting home prices. As more supply becomes available, there could be a correction in the market, but we do not believe that is likely through the summer months.
As always, we remain committed to helping our clients achieve their current and future real estate goals. Our team of experienced professionals are happy to discuss the information we have shared in this newsletter. We welcome you to contact us with any questions about the current market or to request an evaluation of your home or condo.