Fruit
Citrus (grapefruit, kumquats, lemons, mandarins)
Vegetables
Asparagus
Cabbage
Cauliflower
Kale
Pea shoots
Radish
Snow peas
Winter squash
---
April
Fruit
Berries (strawberries, blackberries, blueberries, cherries)
Citrus (grapefruits, kumquats, meyer lemons, navel oranges, pomelos, tangelos, tangerines)
Pineapple guava
Rhubarb
Vegetables
Asparagus
Avocadoes
Beets
Broccoli rabe
Carrots
Cauliflower
Fava beans
Fennel
Chard
Collard
Kale
Nettles
Peas
Spinach
Watercress
Winter squash 
---
May
Fruit
Berries (strawberries, blackberries, blueberries, mulberries, raspberries, tayberries)
Cherries
Rhubarb
Vegetables
Artichokes
Asparagus
Avocados
Cauliflower
Chard
Collard
Kale
Peas
---

Fruit
Berries (blackberries, blueberries, mulberries, raspberries)
Cherries
Loquats
Melons
Nectarines
Vegetables
Artichokes
Broccoli
Cauliflower
Chard
Collard
Corn
Fava beans
Kale
Peas
---
July
Fruit
Apricots, nectarines, peaches, plums, pluots
Berries (blueberries, boysenberries, mulberries, raspberries, strawberries)
Figs
Melons
Rhubarb
Vegetables
Artichokes
Avocados
Broccoli
Cauliflower
Green beans
Snap peas
Squash, summer
---
August
Fruit
Berries (blackberries, blueberries, raspberries, strawberries)
Figs
Grapefruit
Grapes
Melons
Nectarines, peaches, pears, pluots, plums
Vegetables
Artichokes
Broccoli
Cauliflower
Okra
Snap peas
Squash, summer
Sunflower sprouts
Tomatoes
---
September
Fruit
Apples
Berries
Grapefruits
Jujubes
Nectarines
Pears
Pomegranates
Vegetables
Artichokes
Asparagus
Bok choy
Brussel sprouts
Celery
Eggplant
Okra
Snap peas
Squash
Tomatoes
---
October
Fruit
Apples
Dates
Figs
Grapefruits
Pears
Vegetables
Arugula
​Avocados
Bok choy
Brussel sprouts
Broccoli
Cauliflower
Collard greens
Chard
Eggplant
Fennel
Kale
Okra
Snap peas
Tomatoes
Winter squash
---
November
Fruit
Apples
Dates
Grapefruit
Pears
Persimmons
Pineapple guava
Pomegranates
Vegetables
Greens (arugula, collards, dandelion, kale, chard)
Bok choy
Broccoli
Brussel sprouts, cabbage
Cauliflower
Eggplant
Fennel
Okra
Snap peas
Winter squash
---
Fruit
Citrus (oranges – cara cara, mandarin, navel; meyer lemons; grapefruits)
Pears
Pomegranates
Vegetables
Arugula
Beets
Boc choy
Broccoli
Brussel sprouts
Cabbage
Carrots
Cauliflower
Chard
Collard
Dandelion greens
Eggplant
Fennel
Kale
Leeks
Parsnips
Snap peas
Sweet potatoes
Winter squash
---
January
Fruit
Citrus (grapefruits, kumquats, limes, cara cara and navel oranges, mandarins, pomelos, tangerines)
Vegetables
Arugula
Beets
Brussel sprouts
Cabbage
Celery root
Collard greens
Dandelion greens
Kale
Leeks
Mushrooms
Mustard greens
Parsnips
Radishes
Sunchokes
Swiss Chard
Winter squash
---
February
Fruit
Citrus (grapefruit, lemons, navel oranges, pomelos)
Vegetables
Artichokes
Asparagus
Bok choy
Cabbage
Celery
Collard greens
Escarole
Frisee
Kale
Leeks
Radishes
Turnips
Winter squash
---
Find seasonal fruits and vegetables at a local farmers market near you. Buying directly from farmers helps prevent waste in the delivery process.The fewer people handling the produce and the shorter distance it travels, the less likely fruits and vegetables are discarded along the way.
---
Related Content
San Francisco Farmers Markets
Shop Local
Grow Your Own Herbs: Parsley, Cilantro, Basil!
Additional Resources
Farmer's Market Finder – Interactive map – Ecology Center
Vegetables in season in the Bay Area (PDF) – Center for Urban Education and Sustainable Agriculture (CUESA)
Fruits in season in the Bay Area (PDF) – (CUESA)
California produce in season – by month, Natural Resources Defense Council
10 reasons to support farmers markets – CUESA
---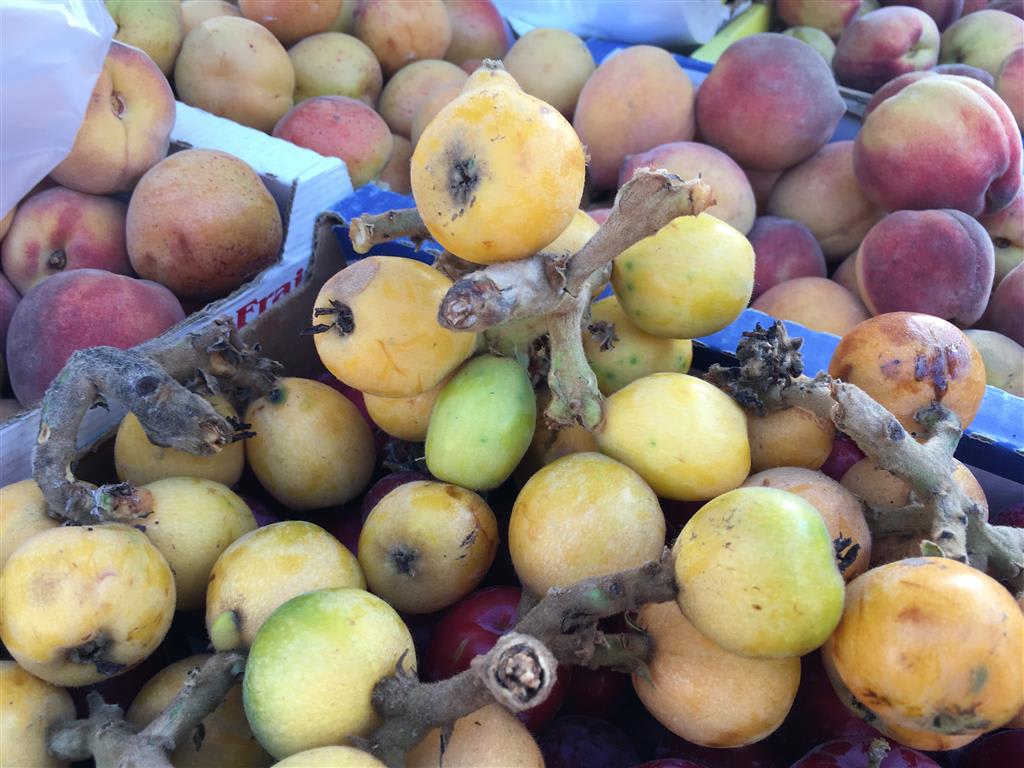 Fresh loquats can sometimes be found in late spring and early summer at San Francisco farmers markets.

Source: Bay Area Seasonal Fruit & Vegetable Guide | sfenvironment.org – Our Home. Our City. Our Planet