Housing Supply
It's normal for the December market to experience a steep drop in new listings as many refrain from putting their home on the market during the holidays. We typically see a pick up of new listings in January. Inventory levels in December 2022 were fairly stable but slightly lower than normal. January did see a spike in new inventory, though it was not as high as we've seen since 2017. Pending sales over December and January hit some of the lowest numbers we've seen in over 10 years. While it's on trend for all of these stats to be lower in these months, they are much lower than we've seen, pointing to fewer buyers deciding to purchase. Month's supply is at less than 2 months of inventory on the market. While this is usually indicative of a buyer's market, historically low levels of inventory have kept this firmly in favor of sellers.
Housing Prices
Sale prices have decreased on average 24% citywide, though on trend it is uncharacteristically steep. It remains to be seen what the Spring market will bring, but the recent uptick in condo prices gives us reason to be optimistic. The holiday slow down brought an increase in the amount of days that homes sat on the market, which is not of concern unless the Spring market doesn't bring more of a pick up. In better news, active listings are low but comparable to December 2019 levels. On average, homes are selling at 3% lower than their original price point, with condos selling at about 7% under asking and single family homes at about asking price. These stats reflect the lowest numbers we've seen since 2012.
The Bottom Line
Looking at the "big picture," we've seen some historical movements with some of the sharpest declines in pricing since 2009 and extremely low levels of both overbidding and new inventory. On a national level, it's expected that prices are to continue on a downward trend, but locally I believe San Francisco and the Bay area has already experienced these declines. The condo market perked up in January, which is highly unusual. Anecdotally speaking, we are seeing an increase in buyer activity with more visitors at open houses, secured pre-approvals, and offers being written. It's our expectation that we will see rising prices in the Springtime, so If you'd like to start the buying process, now is the time and we can help.
But you may be asking yourself, why would anyone want to sell in this market? Here are a few of many reasons someone may decide to sell in a down market:
Trading up? Your current home may be worth less, but proportionally you can get a better deal on your next, more expensive home.
Trading out? Moving away? Once again, your current home may be worth less, but if you are moving to a less expensive place, you may hit that market at a great time.
Tax Purposes? There can be a lot of different tax reasons why someone may decide to sell and it can even be advantageous to do, despite being in a low market (we can refer you to a CPA if you have questions).
Life Happens! Job changes, growing and shrinking family size, health issues and job transfers don't happen around the market cycle and cause people to move.
If you want to chat about selling, we can connect to see what is most advantageous for you. As always, we are here to help you achieve the best outcomes in your real estate journey.
Average Home Sale Price - Marin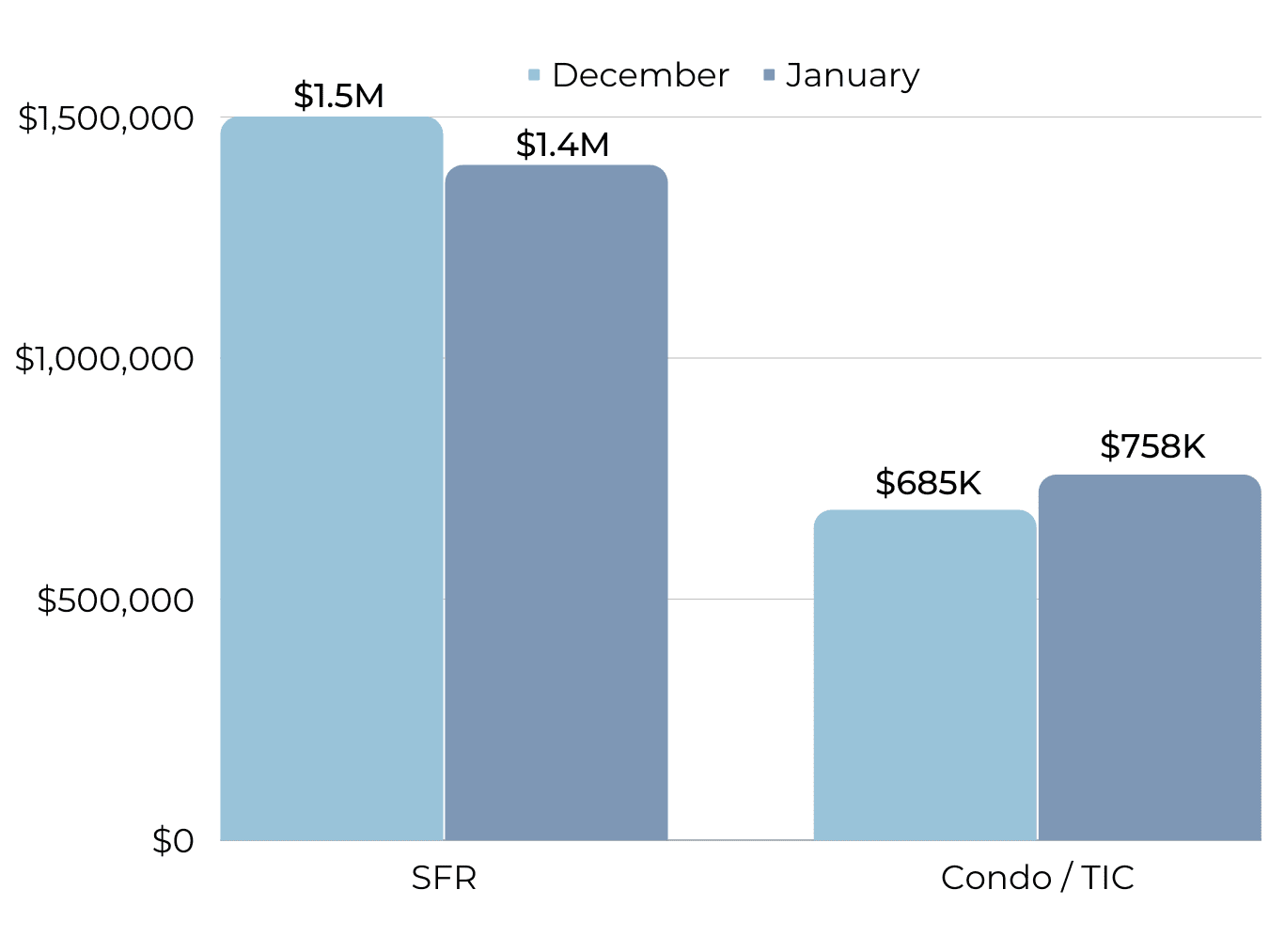 Average Days on Market - Marin